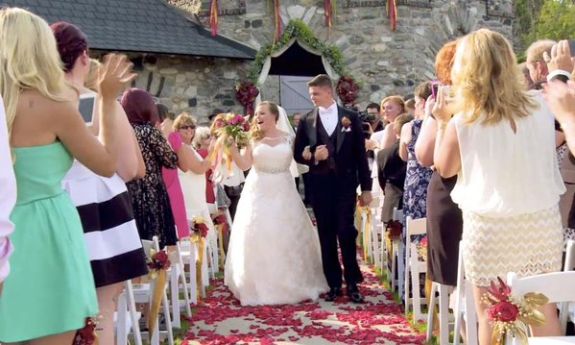 Welcome back, Teen Momers! As you may have noticed, The Ashley took last week off from recapping "The OG" but now she's rejuvenated and ready to tackle this week's 90-MINUTE wedding episode! Yes, kids, after 10 years, two kids, a disastrous season on Couples Therapy, and countless staged conversations about their relationship, Catelynn and Tyler are finally tying the knot– and MTV was there to capture it all! This recap is long– but so was the episode– so let's get started!
We start things off with Catelynn, who is just days away from saying "I do." She and Tyler, along with every member of their families (and possibly each family member's parole officer) are crammed in a house that is near the wedding site. Everyone is staying in the house except Butch, who is currently shacking up at the nearest campground (as you do), so he doesn't have to hear the screams of passion of his ex-wife April and her new husband, who are also at the house.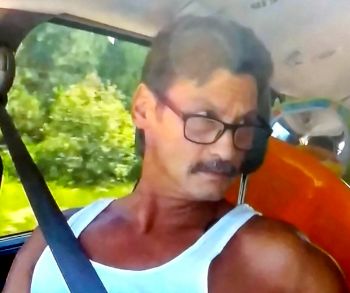 It's the day of the wedding rehearsal, so Tyler scurries down to fetch Butch so he can attend the festivities. They blow out of the campground in Tyler's minivan and on the drive over the wedding site, Tyler breaks the news to Butch that Brandon'n'Teresa don't want him around them or Carly. Butch is hurt that the Whitebreads are scared of him, but Tyler insists that it's for the best if Butch doesn't approach them or Carly at the wedding.
Speaking of weddings, Maci is still not having one and she's not happy about it. She and Taylor have returned from their Vegas trip…and their football game trip…and Maci is still ringless.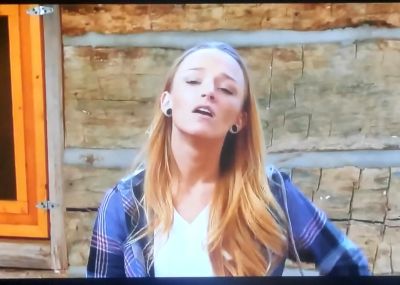 While Taylor isn't shopping for rings, he is shopping for a clothing line to invest in. He's found some dude online who has his own line of T-shirts with leather pockets (or something) and he wants to buy the brand. Maci's not too keen on the idea at first. (After all, if Taylor's busy buying T-shirts, he won't be buying engagement rings!)
Maci is hesitant because she and Taylor are kind of broke at the moment. (Perhaps that season's check hadn't made its way to Casa de Maci yet?) She knows that having a clothing line will be a huge undertaking and she's not really down with having to do free labor to make Taylor's T-shirt dreams come true.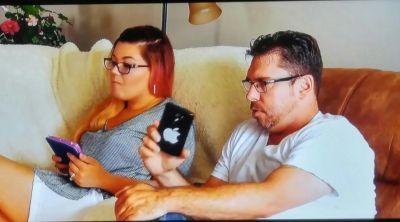 Over in Indiana, Amber has dropped off Leah at Gary's and has landed safely back on her couch. Luckily, their newest business venture doesn't require them to stand erect or leave the house.
Amber tells us that she and Matt have decided to invest some of their her money in real estate. Amber says they are going to be flipping houses. (Why do I have the feeling that Matt thinks that means they're going to be buying an International House of Pancakes?)
They call up Charlene and ask her if she can help them with "some stuff." Charlene tells them that she has a trashpit of a house that they can buy for about $20,000. (That's equivalent to about one court hearing and three Krystle conversations worth of filming time, by the way.)
Charlene has nothing better to do, so she invites Amber and Matt to come look at the house that afternoon. Of course, Matt and Amber have nothing better to do that day. (I mean, 'Wheel of Fortune' doesn't come on until 7:30 so they've got a few hours to kill.)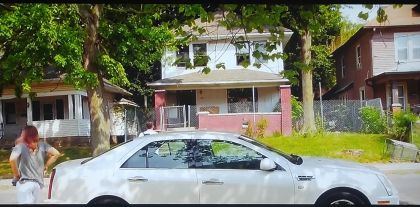 They arrive at the house, which looks sketchy at best. It's all fenced off with a broken-down fence, and there's a random shopping cart in the yard. (Oh, I see we've found where Kieffer has been squatting all of these years!)
Charlene, who looks like she's been busy scrubbing the blood stains off the house's front door, rushes to greet Matt and Amber. She legit breaks down the front door so she can let them into the house. It's really a credit to all three that they didn't run screaming when they entered the house. It basically looked like the site of Chernobyl. The walls are literally melting off and there's plastic covering most of the interior.
"Was there a fire in here?" Amber asks as she examines the "high ceilings" that Charlene is raving about.
In addition to the burnt out ceilings, the floors are all busted up. (Perhaps they were made of that same, um, pressed wood stuff that Gary broke through a few seasons back?)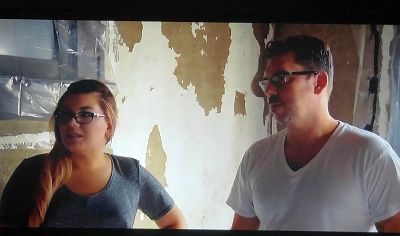 "So…what do you guys do for a living?" Charlene asks Matt and Amber.
Well, isn't that the million dollar question! Amber and Matt both look like they have no idea what to say, since stating that they sit on their couch and collect MTV checks doesn't really have a nice ring to it.
"Well I've been on a TV show for about seven years," Amber says. (Didn't all of those TV cameras tip you off a bit, Char?)
When it comes to describing what it is that Matt does for a living, Amber simply states that "he's my fiance." That, sadly, actually sums things up pretty well.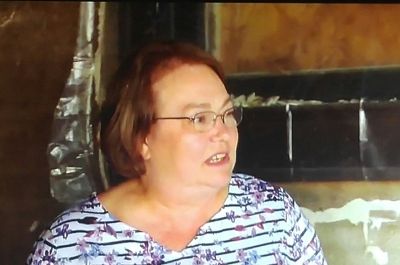 Charlene looks kind of terrified (and somewhat intrigued) as Amber explains the difference between 'Teen Mom' and 'Teen Mom OG.' Amber, however, decides that this trashpit will require too much work for her and Matt to flip, so she turns it down. (Kieffer, who was certainly hiding in the fireplace during their inspection of the house, is most likely relieved that his humble abode will remain intact.)
Finally, we check in with Farrah, who has taken her bad attitude (and badly plumped lips) across state lines for a trip to Nebraska and Iowa.
Debra has flown to meet up with Farrah and Sophia, and, although Deb wants them all to have a slumber party at their old house, Farrah declines and opts to stay at a hotel instead. They all pile into a chauffeured car at the airport. (OK– is this new? Does Farrah use some of her butt movie money to pay for a driver in every state she visits?)
Anyway, another car cuts them off and Deb yells at the guy who was driving. Then— now this is rich— Farrah scolds Debra for yelling in front of Sophia. Yes, the same Farrah who has screamed at her parents, her boyfriends, the producers and practically every breathing member of the human race in front of Sophia, is telling someone else to be nice in front of her daughter.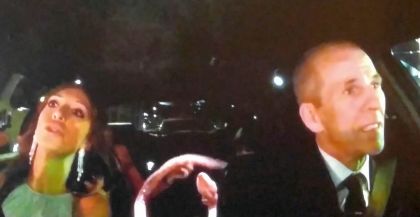 Meanwhile, the driver looks like he wants to strangle himself with his own seatbelt. Death seems like a better alternative to spending two more minutes with Farrah. Honestly, watching his facial expressions is far more entertaining than watching Farrah and Debra yell about what to say around "Baby Goo."
The incident has stirred some doubt in Farrah, and now she's considering not letting Sophia stay with Deb while she goes to terrorize the UK to film Celebrity Big Brother. Farrah calls up her old therapist so she can get in a quick sesh before she leaves town.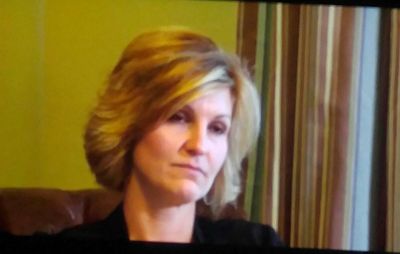 The counselor starts things off with "How have you been?"
Oh, lady. There aren't enough hours in a day to describe all of the sex tapes, fake boyfriends, TV shows, vagina molds and ugly cry faces that have made up Farrah's life in the years since you've seen her. Not to mention that Farrah looks like a completely different person than she did three years or so ago.
Farrah starts raging about how she can't trust her mother to watch Sophia. She says that Deb has bipolar and is too snippy and selfish for Farrah to be around. Um….?!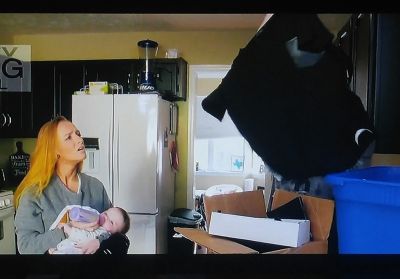 In Tennessee, Taylor has purchased the T-shirt company and is examining his inventory. It's basically tub after tub of T-shirts with the same weird leather pocket on them. Is that for a condom or….?
Taylor sets up a photo shoot to help him hawk all of the T-shirts, but Maci is concerned since they are going to Catelynn and Tyler's wedding right after the shoot. (It's still so weird when one girl mentions another girl on the show. It's very meta and it kind of creeps me out.)
Luckily, Maci and Taylor have lots of hot and talented friends who are willing to help out with a photoshoot.
Back in Michigan, the wedding rehearsal is off and running. Butch has busted out a clean white tank top for the occasion, and April is doing her best not to drool as her ex-husband sashays by her, smelling of campground and man-musk.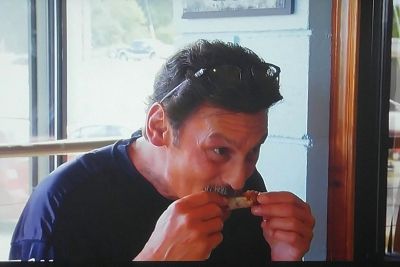 At the rehearsal dinner, everyone is having a grand ol' time! Cate and Ty's family and friends are laughing and eating, and Butch has been allowed to order whatever appetizers he wants–it's a good day…until Butch decides to make a speech.
He stands up (and has somehow found an actual T-shirt to put on over his white tank. Perhaps Taylor sent him a sample from his new line?) He starts to get choked up as he apologizes for being a trashcan of a dad for most of Tyler's life. His speech makes everyone cry, and Tyler's sister, Amber, pats Butch on the back and yells, "We still love ya, sh*thead!" "Shut up, bitch!" Butch jokingly yells back.
Well if this ain't the stuff Hallmark Family Channel movies are made of, I don't know what is!
Meanwhile, Amber and Matt are still looking for a house to flip. They head up to Indianapolis, where they find a house for sale that has a yard littered with plastic patio furniture, satellite dishes and weird shipping crates. Perfect!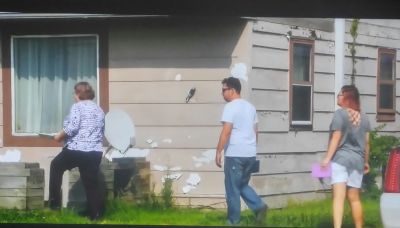 This house is in much better condition than the first. It has furniture and walls and stuff. (In fact, Matt looks like he could just plop down on the couch and make himself at home right now!) Amber and Matt can spend $21,000 on the house and repairs. The owners want $31,000 so Matt decides that they should offer them $18,000 instead. Shockingly, the owners weren't keen on taking $12,000 less than the asking price, so they rejected it. Matt and Amber soon find another house they can flip and buy it right away.
There's a large split in the ceiling of one of the rooms, though.
"What is this crack?" Amber asks. (At the mention of "crack," Matt's ears perk up.)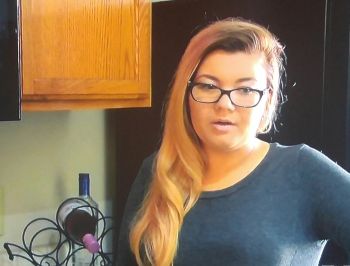 Charlene explains it away as a "settling crack" and scurries out of the house before Amber and Matt ask for their money back.
When they get home, Matt and Amber talk about how they hope the money they make from this flip will help pay for them to open a sober living home. They do this, of course, while there is a bottle of vodka and a bottle of wine behind Amber. Now, their sobriety is no one's business but their own but…come one guys. At least move the booze bottles out of the shot if you are talking about your sober life.
AM I RIGHT?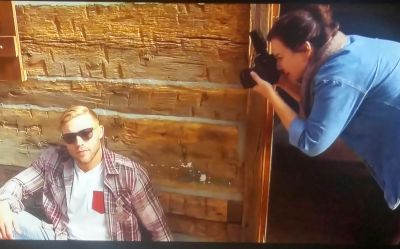 In Tennessee, Maci and Taylor have gathered their friends for the clothing line photo shoot. They are making sure to showcase the T-shirt's signature pocket in each photo because without the pocket, they're basically just the T-shirts you'd find in a Fruit of a Loom three-pack.
After the photo shoot, Maci and Taylor pack up and head to Michigan for Cate and Ty's wedding.
Over in Nebraska, Farrah and Sophia check in with Farrah's dad, (Whatever) Michael. Farrah explains (while applying Sophia's eye makeup, naturally) that she wants Michael to watch Sophia while she's gone, rather than Debra.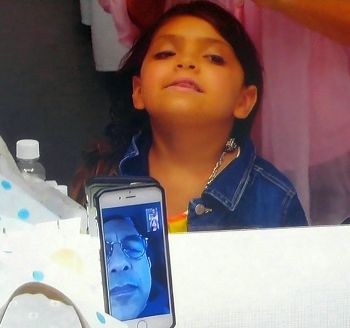 "I know you have jobs and stuff," Farrah says.
Dontcha hate it when "jobs and stuff" get in the way of your dad watching your kid?!
Michael agrees to put his "jobs and stuff" aside to watch Sophia. Farrah then calls Debra to break the news that she's been replaced as Sophia's babysitter. Farrah is legit smiling as she realizes how hurt Deb is about being replaced, and even Sophia seems to be getting a kick out of it.
Soon, though, Farrah starts yelling at Deb (despite the fact that Sophia can hear everything), so Sophia runs over to Producer Heather and says that she left the room because she didn't want to hear her mom or grandma cry.
Um…can Producer Heather adopt Sophia? Besides the fact that she'd probably pass on poor hair styling, Heather really seems like a much better parental choice for Sophia than Farrah.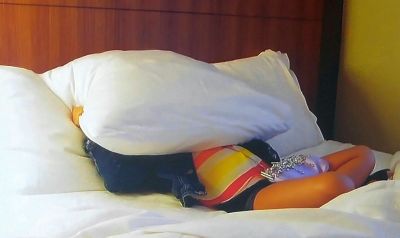 Debra then tells Farrah that she's lost her job over Farrah being such a horrible person. Sophia, meanwhile, is covering her ears and hiding under the pillows so she can't hear the argument.
Later, Farrah and Sophia have some manufactured mother/daughter time before heading over to Deb's house to ruin her day even more. Debra explains to Producer Heather that she's hurt that Farrah isn't letting her watch Sophia (and even more hurt that Farrah thinks she's old and "not with it.")
Farrah and Sophia arrive at Deb's and everyone's talking in a strange, high-pitched baby voice. Soon enough, Debra brings up the fact that she got replaced as babysitter by Michael. Deb says that Michael can't watch Sophia, so Farrah calls him up to see if Michael lied to her. Mike confirms he can watch the kid, and Farrah gloats as Debra looks heartbroken. Sophia, meanwhile, is sticking her tongue out at her grandma.
Deb finally speaks up and says that she's sad that she was replaced.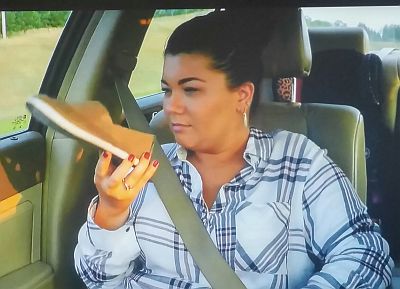 Meanwhile, though, the rest of the 'Teen Mom OG' gang is heading to Michigan for the wedding. Amber is busy smelling her shoe on the drive there (as you do), and everyone is excited for the upcoming festivities. Catelynn is busy getting glammed up for her wedding, while Tyler and Butch put on their tuxedos for the big day. Once everything has been Instagrammed, Ty and Butch head to the wedding venue.
Catelynn can't find her veil, and she realizes that the bridal shop didn't include it. The shop is four hours away, so Catelynn starts freaking out. Luckily, the wedding planner locates a veil for Cate to wear. Maci and Amber arrive at the wedding and they are greeted by Butch.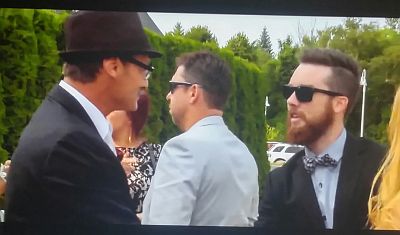 "This is the first time I'm meeting these people!" Butch exclaims. He meets Bentley as well.
"What's up man!" he tells the kid. "I watched you on TV all the time…in my jail cell.
Jesus God (Leah). I love Butch.
Butch seems eager to trade prison stories with Amber but there's no time for that, because the wedding is about to start.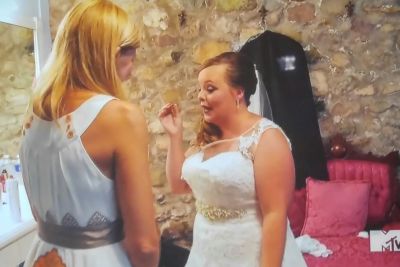 Before she walks down the aisle, Catelynn gets a visit from Teresa (who is wearing a white dress for some reason). Teresa gives Cate a pep talk, and tells her that she is very proud of her. She even helps Catelynn apply the borrowed veil.
The guests have all taken their seats and soon the wedding party is ready to march down the aisle. Tyler and his mom walk together, with Butch hovering behind. Soon it's Catelynn's turn to walk down the aisle. She's escorted by April and her rarely seen dad, David. Catelynn looks stunning, and Tyler is crying as he sees her walking toward him.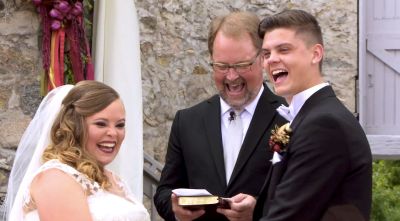 The vows are adorable, and Tyler's in particular have everyone crying. They exchange rings  and soon they are pronounced husband and wife. Everyone cheers as the newlyweds head back down the aisle. It's a perfect wedding ceremony, and now everyone's ready to party!
Afterward, April gets to meet Carly, and Butch is feeling sad that he doesn't get to meet her as well.
OK– let's stop here for a sec. Teresa doesn't want Butch to meet Carly because of all the mean things he said about Carly's adoption. True, Butch was in prison but…April was horrible to both Cate and Ty about the adoption. Why does she get to meet Carly but Butch doesn't? Neither one will ever win the Parent of the Year medal, let's be honest.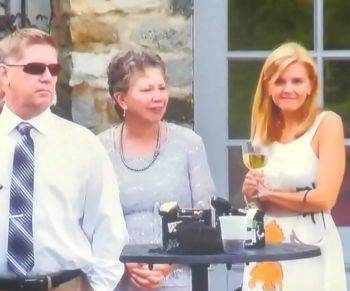 Butch is thinking about introducing himself to Carly, despite the fact that Tyler told him not to. Butch sees his chance, and heads over to talk to Carly, who's sitting with some other kids on the lawn. Butch says hello, and instantly Teresa shoots daggers with her eyes at Butch. Someone hustles Carly away from Butch, but he looks happy that he got to say hello.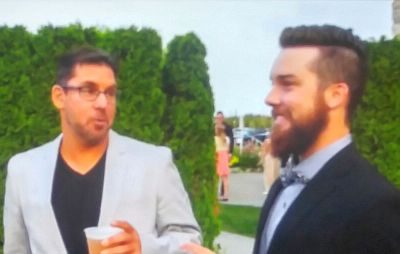 Meanwhile, Matt and Taylor are talking about how beautiful Tyler's vows were. Matt, who is probably overwhelmed by all the free food and drink available, is worried that his vows to Amber aren't going to be as good. He then badgers Taylor about when he'll propose. Taylor looks like he wants to punch Matt in the "haaaahrt" for asking him about marriage.
The reception is great. There are masks (which are never really explained) and a fire dancer. The DJ introduced Catelynn and Tyler as the "new Mr. and Mrs. Baltierra." (I suppose the first Mr. and Mrs. Baltierra were Butch and April.)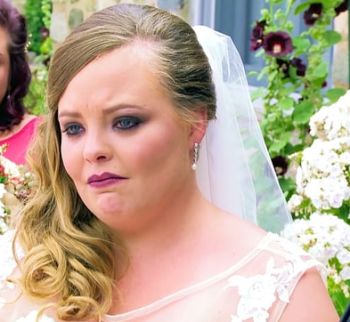 Next, it's Tyler's sister Amber's turn to give the Maid of Honor speech. She starts talking about how she and Tyler didn't have a dad, and how Butch was always in prison, yadda yadda, and talks about how they have a great mom…and mentions nothing about Catelynn. Great speech, girl!
Cate and Ty do their first dance as a married couple, and the look on Maci's face is clear as day. She's sooo picturing herself in that wedding dress, with Taylor in a tuxedo version of his pocket T-shirt, dancing together.
There's a sweet dance between Tyler and Carly, which makes everyone cry. Nova is dancing with Teresa and everyone is in tears. Tyler is crying and proclaiming at how wonderful the wedding is, and it's super emotional.
The reception ends as a big dance party, with Butch breaking it down with Maci, Amber and Kail.
Best.Wedding.Ever.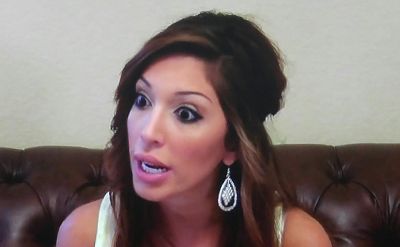 Back in Nebraska, Debra and Farrah are still fighting, and Deb starts screaming about how she's alone and how no one cares about her. She's crying and throwing dishes and cups into the sink. Sophia is crying and saying she's scared, which is really just sad. She's covering her ears but the argument continues.
Farrah accuses Deb of being a grown up throwing a tantrum, which is essentially what Farrah does every time she gets mad. Sophia refuses to kiss Deb goodbye and she and Farrah storm out the door into their waiting limo car. Deb looks down, most likely wondering how the hell she created such a monster.
Next week, Debra continues to argue with Farrah, and Catelynn continues to be sad, even after the wedding.
To read a recap from a previous episode of 'Teen Mom OG,' click here!
(Photos: MTV)