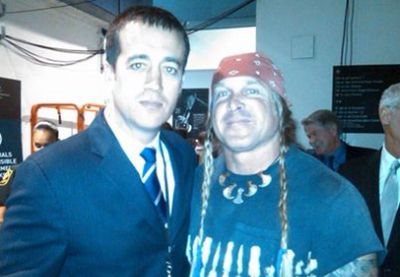 Cody Lundin is fighting mad– from his head all the way down to his bare feet!
In a Facebook post this morning, former Dual Survival host Cody responded to the claims made by the show's executive producer, Christo Doyle, during a December Facebook Q&A session with fans. Christo stated that he had always intended for the show's hosts to be switched up in order to keep the show "fresh." 
Cody, who was fired from 'Dual Survival' in February 2014, has been very vocal about what he claims are "serious issues behind the scenes" of the survivalist show. In his new post, which he titled "Dual Deceit," Cody lashed out at Christo  and promised to expose the show's secret cover-ups regarding the firing of Cody's first co-host, Dave Canterbury.
"'Dual Survival' was never meant to have rotating hosts," Cody wrote. "Current Discovery executive Christo Doyle was also the executive in charge of 'Dual Survival' for Season two. He and others participated in the covering up of the Dave Canterbury fraud. Mr. Doyle's recent Facebook post about cast changes on 'Dual Survival' is not about 'freshening up' the show; it's about covering up what was happening behind the scenes."
In February 2014, Cody stated that he had been fired from the show due to "differences over safety and health concerns on the show." Cody claimed in his new Facebook post that the episode that aired after his firing to explain his absence was actually just an attempt to cover up what really happened behind the scenes of the show.
"My firing, and the subsequent defamatory episode that was cobbled together by Discovery, Original Media, and show runner Brian Nashel in order to explain my absence, was also done to cover up serious issues behind the scenes," Cody wrote. "This was done after they offered to pay me, and asked me three times to lie to my fan base. I refused.
"These cover-ups will be exposed, as they always are. Don't touch that dial," Cody added.
In his December Q&A session, Christo Doyle stated that most of the former 'Dual Survival' hosts–in particular Dave Canterbury–will never be coming back. However, the current season's team– Bill McConnell and Grady Powell— has not been well-received by many of the show's die hard fans. Season 7's ratings so far have reflected those sentiments.
Christo has not yet responded to Cody's statements.
The Ashley will update this story when more info becomes available! Stay tuned!
(Photo: Facebook)