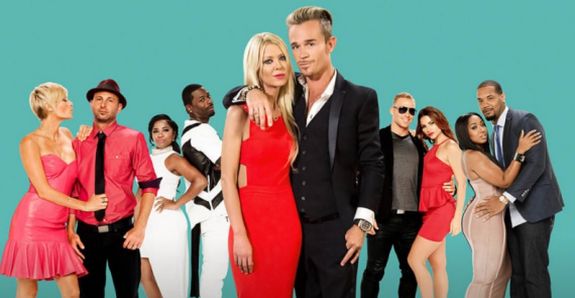 Get ready for more marital (as well as some "not-married-but-want-to-be-on-TV") drama because WEtv has just announced the new cast of Marriage Boot Camp: Reality Stars! Although it will be almost impossible to top last season's cast, which included Mama June and Sugar Bear, this season's cast will be somewhat interesting.
According to Us Weekly, the new cast includes actress Tara Reid and her boyfriend Dean May, who are described in the trailer as "the Hollywood wild child and her party boy boyfriend."
We'll also catch up with Lisa D'Amato (whom you may—or may not—remember from a long-ago season of America's Next Top Model) and her husband Adam Friedman, who is apparently a fan of threatening his wife with divorce.
Other couples include Michelle Money and Cody Sattler from Bachelor in Paradise (she was the resident cougar of the show, while he spent time bench-pressing boulders),  rapper Toya from the reality show Toya Family Affair and her estranged husband Memphitz (who openly admits in the trailer that he cheats on his wife).
And, because no season of 'Marriage Boot Camp' would be complete without a couple from Basketball Wives, they've included engaged couple Brittish Williams and Lorenzo Gordon from Basketball Wives L.A in the cast. Apparently, Lorenzo also has trouble keeping it in his pants, as Brittish is heard screaming, ""How many females, Lorenzo?" in the trailer in an attempt to find out how many people he's cheated on her with.
Brittish and Lorenzo aren't the only couple in turmoil. For instance, all hell breaks loose between the Bachelor couple in the trailer.
"You said the one f**king thing that you promised me you wouldn't," Michelle yells at Cody. "I've been done since we got here!"
We also see Memphitz and Toya get physical, with her slapping him several times.
It seems that Tara will be the one who keeps us entertained during this season, though. Never one to turn down a party, we see her dancing on the table in the trailer. Apparently her boy toy can match her shot for shot because he was up on that table too.
The new season of 'Marriage Boot Camp: Reality Stars" premieres on WEtv on June 5. Watch the first trailer below:
(Photo: WEtv)