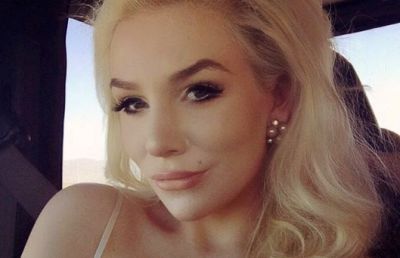 UPDATE! Courtney has confirmed her pregnancy to Us Weekly.
"Doug and I weren't planning on going public with this so soon. I'm only four weeks along in my pregnancy. But some things are out of your control," she told the magazine.
Courtney Stodden and her husband Doug Hutchison are adding to their wacky family tree! Reality Tea revealed on Saturday that the reality star and her much-older actor husband are expecting their first child.
According to Reality Tea, Courtney and Doug recently sent out a video to their friends and family that showed Courtney waiting for the results of a pregnancy test she had taken on May 11. In the video, the couple learns that they are expecting, according to the site.
"Once she sees the double lines indicating 'pregnant,' she sits down and looks happy and scared. Doug asks her how she's feeling and she says 'a little overwhelmed,'" the site stated of what the video showed.
This will be the first child for both Courtney and Doug, who are about to celebrate their fifth wedding anniversary on May 20.
Courtney, who recently starred on Lifetime's reality trainwreck, The Mother/Daughter Experiment with her estranged mother, Krista Keller, married Doug back in 2011 when she was just 16. (He was 50 at the time of the wedding). Doug appeared on an episode of 'Mother/Daughter' to discuss Krista's claims that she and Doug had romantic feelings for each other, despite him being married to Courtney at the time.
Courtney recently told WonderWall that her husband has been longing for a child.
"Doug really wants children," Courtney told the site. "It's a challenge because he really wants children with me, and I eventually would love to have kids, but it's all in good time."
(Photo: Instagram)