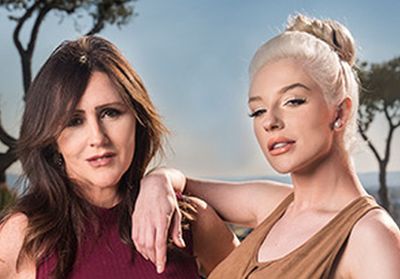 Getting intensive therapy on a reality TV show isn't always a good idea.
The Ashley will give you a minute to get over the shock you surely feel after reading that.
According to Courtney Stodden, who recently starred on The Mother/Daughter Experiment with her mom, Krista Keller, going on a reality TV therapy show actually made their relationship worse.
"We're completely on the outs right now," Courtney said in a recent interview with WonderWall. "I hate to say that we're in a worse place now than we were before we started, but we're just not in a good place right now… Unfortunately, not much has been healed."
In the five months since the show's filming wrapped, Courtney's mother Krista has threatened to sue the show's producers (presumably due to how negatively she feels she was portrayed). Courtney, however, says she's still trying to fix the soured mother/daughter relationship.
"I'm not quite sure that [my mom] would be willing to go back on [the show], but I'm willing to do just about anything," Courtney told the site. "I don't really care about the cameras. I don't really care about that situation. I just want to fix the relationship, so if it meant going on a second season, then I would consider it."
She hasn't, however, been able to watch the season she and her mother were already featured on.
"To be completely honest with you, it's still really difficult for me to sit down and turn the TV on and actually watch an episode because it still hurts," she said. "All of the drama is still there. There's a lot of toxic energy in that relationship that I have with my mom. It's also difficult to watch her."
It's no wonder Courtney doesn't want to watch the episodes; after all, her mother admitted on the show to having romantic feelings for Courtney's husband, Doug Hutchison.
"I don't want to say I'm embarrassed for her, but it's truly difficult to watch her in therapy," Courtney said. "Because I love her — she's my mom! But it's really difficult for me to watch."
To read our recaps of 'The Mother/Daughter Experiment,' click here!
(Photo: Lifetime)