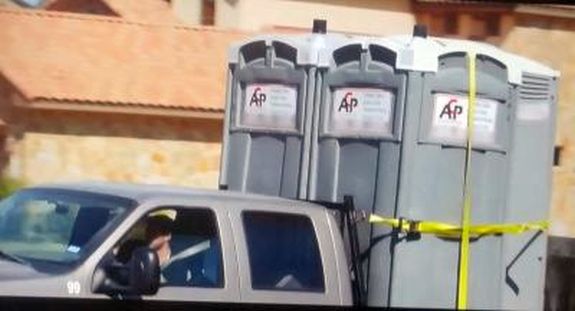 Well here we are again, kids. It's been seven years since we watched these girls squat a kid out of their teenage loins on 16 and Pregnant, and we're still watching these people squat out kids and make the same bad decisions they made when they were teenagers. Now, however, they're older and have enough money to basically buy and sell most of us who watch this show. Sigh…
Since it's a new season, The Ashley will start things off with her regular disclaimer: The Ashley does not hate this show or these girls. In fact, there is probably no one on the planet who likes this crap more than The Ashley (#MakeSeason75HappenMTV), so her recaps are done all in good fun. If you are the type to be offended by recaps that poke fun at reality TV stars, you may want to spin it around right now.
Now that it's just us degenerates in here, let's get started! It's time for the premiere of Teen Mom OG Season 6!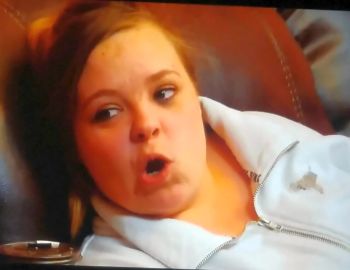 Season 6 kicks off with a recap of what happened last season. Since The Ashley doesn't want to write about all of the stuff we've already seen, she will break last season down like this: a wedding for Catelynn, an oopsie baby for Maci, a litter of dogs (and potential stepkids) for Amber via ever-fertile fiance Matt, and a season's worth of intense "anti-Christ attitude" from Farrah.
The new episode starts in Texas, where a fresh batch of Porta-Potties is being delivered to Farrah's home. Once again, the 'Teen Mom' film crew will have to go out Farrah's back door (pun absolutely intended) to use the commode because no butts are permitted to sit on Farrah's bathroom thrones expect for hers. (We all know poor Michael is probably thrilled to see the portable toilets being delivered for the new season. Since the crew left last year, he's probably been forced to dig a hole in the backyard when he needs to relieve himself at Farrah's house.)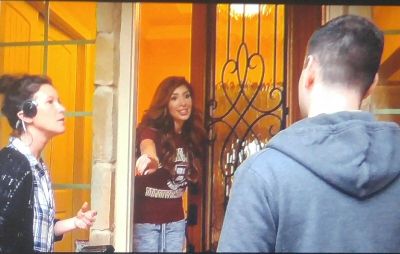 The toilets are placed on Farrah's property, and Producer Larry assures Producer Heather that he and Farrah have talked out their problems from last season. (In other words, he's stood in front of Farrah and let her yell at him for a while so that she doesn't stop appearing on this show.) He now feels secure to go back to her house to film a new season.
The crew heads into Farrah's house, where we find Debra waiting for them. She's just hit up the sale rack at Charlotte Russe and is ready to show the world that she's not just a mom, she's a cool mom! Deb beams with pride (and/or liquid facelift effects) as Farrah explains that she does a podcast in Los Angeles every week.
The scene is really odd because Farrah and Deb are just standing there, casually holding the products they are pushing: Deb is holding her spaghetti sauce while Farrah is showing off a sign for her podcast. (Let's thank the Baby Jesus that Farrah doesn't have her other products– the vibrating butts–displayed and buzzing around the room!) No one really comments as to why Deb is just chillin' in the living room, randomly holding a jar of sauce, which makes it even better.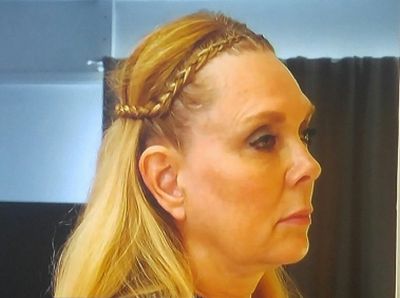 The next day, Deb has her hair all braided up like the Swiss Miss Girl on crack and is listening to Farrah (who is sporting the same weird braid, naturally) complain about the engagement ring she bought herself.
According to Farrah, her on-and-off-again boyfriend, the ever-suffering Simon, convinced her to buy herself the ring and told her he'd "get her back later." Deb looks like she's not buying the story (or age-appropriate clothes, for that matter), but she doesn't want to get kicked out of Regina George's Farrah's clique so she just shuts her mouth and lets her daughter yap.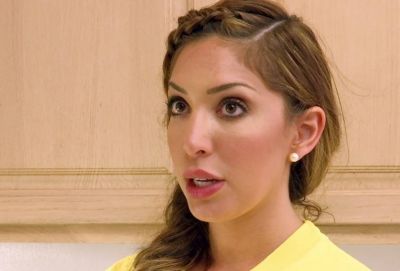 Farrah bought herself an "amazing quality" 14-carat diamond ring, but has no beau to give it to her. While this behavior may seem odd, we have to remember that this is the same chick who went on Couples Therapy…by herself. Honestly, Farrah should just marry herself. She's the only person she actually likes.
Meanwhile, over in Michigan, the 'Teen Mom' crew is arriving at Catelynn and Tyler's house. (They are probably thanking their lucky stars that they were assigned to film Cate and Ty and not relegated to four months of taking dumps in the Porta-Crapper in Farrah's driveway.)
Catelynn, who is still sporting that damn zebra-print hoodie she wore all last season, is frying up a pan full of processed meat treat for the occasion. The gang is all there– Butch and his girlfriend, Nadine, as well as Tyler and baby Nova.
Cate and Ty are sitting around the living room (in the middle of the day, in the middle of the week, naturally), complaining about being bored. Catelynn reveals that she and Tyler are considering moving into another house. Butch, who has spent the better half of his life in a cinder-block cell, can't imagine why his kids would ever want to leave the castle-of-a-home they live in now.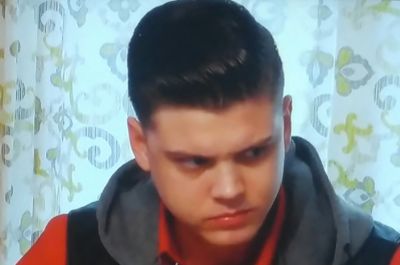 "It's not open enough!" Tyler wails. "I NEED AN OPEN CONCEPT!"
Here's a concept: Why not open a book once in a while and go to college so that your day isn't filled with you sitting around whining and talking about what's happening on Twitter?
Anyway, Tyler tells Cate that the house they want will cost them $73,000 (or in 'Teen Mom' terms: four episodes of talking about Carly and her bitch-of-an-adoptive-motha-and-fatha, an episode involving a Butch dilemma and two good crys on the couch opposite of Dr. Drew). The new house will have Tyler's much-desired "open concept", new floors, new countertops, plenty of room for more babies, and a hook for Catelynn to hang her zebra hoodie on!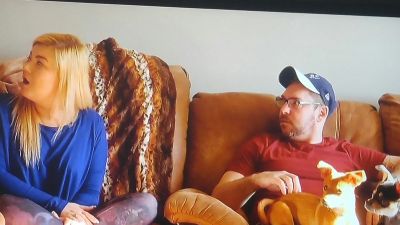 Next we head over to Indiana, where Amber's beloved couch is being overrun with dogs (both the literal kind and her fiance, Matt). There are dogs running all over Amber's house, and they have no problem peeing on the 'Teen Mom' crew. (Hey, these people are used to being pissed on; after all, they've been working with Farrah for seven years!)
Amber tells us that she and Matt are still planning on getting hitched, despite the fact that Amber recently learned that Matt has spread his seed from sea to shining sea.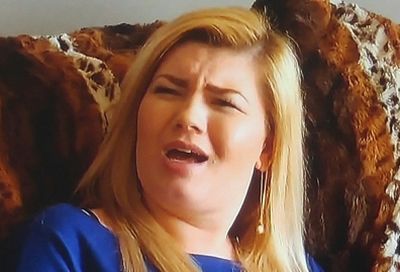 Speaking of kids, Amber and her ex Gary are still working on getting a custody agreement worked out for Leah. Amber said she rejected the last custody proposal because Gary was trying to make her pay back child support for "absolutely no reason."
Um…isn't the reason because he was supporting your child back when you were locked up and putting Jolly Ranchers in your shampoo in prison?
Amber says that she will be getting more time with Leah once the custody agreement goes through.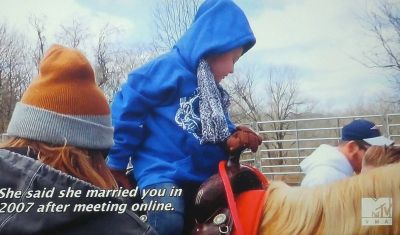 Amber and Matt take Leah horseback riding, but things take a weird turn when Matt has to scurry away and use his phone. He calls someone who tells him that– wouldn't ya know?– there's another woman coming out of the woodwork who claims that she got pumped and dumped by Matt after marrying him in 2007. As you do.
Matt doesn't seem all that surprised by the story. (At this point, though, this is just business as usual for our favorite baby-maker. We've finally found someone who has more soulmates and fertility than Jenelle Evans!)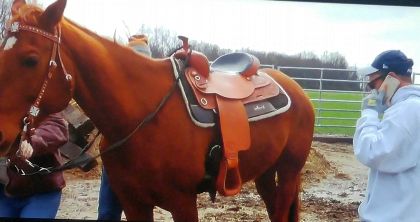 The person tells Matt that the story will be coming out soon, but Matt takes it all in stride. He continues with the horseback riding, and all of a sudden Amber gets nervous when her horse starts going too fast.
"Mine's trying to run!" she screams of her horse.
The horse is trying to tell you something girl! Run like the wind!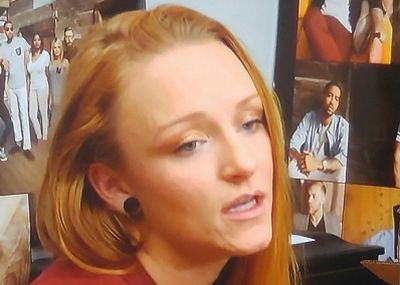 Finally, we head to Tennessee to check in with Maci. Things have been busy in Casa de Beer Can since we were last there. Maci and Taylor are running their T-shirt business. (You'd be surprised how many people will sport a plain T-shirt with a weird leather pocket if you slap an MTV reality star's face on the advertising!) They are also busy raising Bentley and Jayde, not to mention filming with MTV.
Taylor has a special secret. After years of being pressured by Maci into proposing, Taylor has finally broken down and is going to get Maci a ring. He's going to design the ring himself. (There's a good probability that Maci's engagement ring may have one of those creepy leather pockets on it.)
Taylor and Maci will be heading to Los Angeles for official 'Teen Mom' business, so Taylor is planning to propose to her there. He wants to do it on the beach, so the producers decide to help him by pretending Maci needs to do an MTV photo shoot.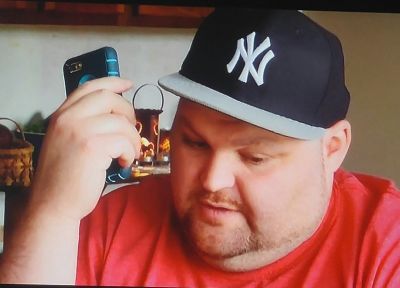 Back in Indiana, Gary is upset because his custody agreement proposals keep getting rejected by Amber. He says that she's rejected about 10 proposals and doesn't seem to have time to fit the court stuff into her busy schedule of getting fake nails, fake lashes and running a couch kennel with Matt. Gary wants Amber to just sign the damn papers, and he's even wearing a "Just Do It" T-shirt to further stress this point.
Later, Gary calls up Amber to discuss the custody agreement. (Meanwhile, Matt is sitting there looking nervous about having to tell Amber that they'll need to add yet another limb to their creepy family tree.) Amber assures Gary that she will finally sign the papers.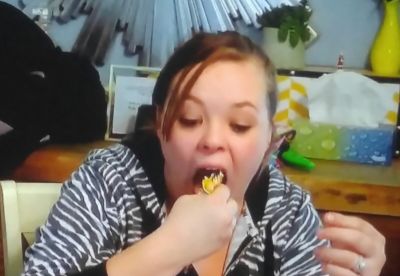 In Michigan, Catelynn and Tyler are sitting at home, stuffing fried foods into their gullets when Cate declares that she's going to rejoin Weight Watchers. Tyler is all for the venture, and wants Cate to start ASAP. He starts analyzing the "big ass quesadilla" Catelynn is eating, and says that he "don't want no heifer for a wife."
The producer that's staring at them during this conversation starts to get uncomfortable, knowing that Tyler is going to be raked over the coals by basically everyone who watches this scene. Tyler continues to demonstrate what exactly constitutes a "big ol' heifer" in his book. He even provides visuals, but Catelynn doesn't seem to be bothered by the conversation. She just keeps stuffing quesadilla slices into her mouth and giggling.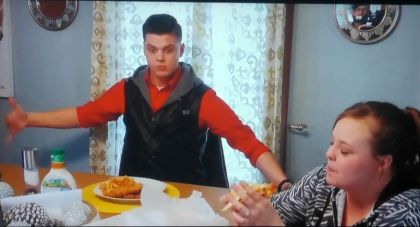 Tyler assures Catelynn that he'll love her no matter how huge she gets. Cate wonders if it's even worth counting the Weight Watchers points of every "big ass quesadilla" she eats because she suspects that Tyler may want her to shoot a couple more kids out to fill up his "open concept" new house.  Tyler seems to be rethinking that idea because… kids are hard work…and stuff.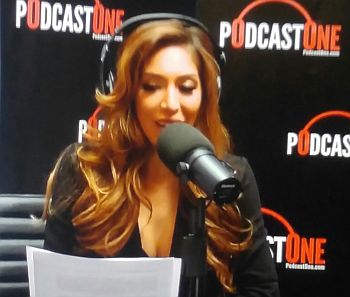 In Los Angeles, Farrah is doing her podcast. Naturally, the only guests who are willing to appear on this horrorfest are people related to 'Teen Mom.' This week, it's Producer Heather and Producer Larry. (Did anyone actually listen to this podcast before it was cancelled? Well, anyone other than Deb, I mean?)
We are treated to hearing Farrah (in her "radio voice") take some calls from her adoring fans. The first caller is a woman named Angie, who is basically The Ashley's new hero. Angie asks Larry why the hell he lets such a narcissistic Porta-John like Farrah be on a show to represent young mothers. Farrah makes a weird blowjob joke and does a toast to Angie and all of the other people who hate her.
Heather says that people shouldn't be so judgmental of Farrah. Um…isn't that the point of this whole damn show? We watch these girls do dumb things, judge them, and then everyone makes money. Wash, rinse, repeat. What's the problem?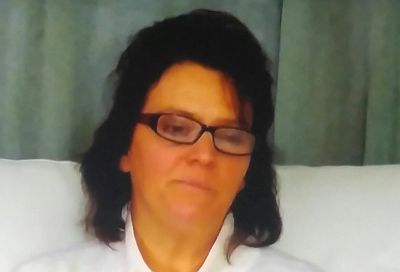 In Michigan, Tyler heads to see his mom, Kim. Her house is full of mystical objects, like massage chairs and stained glass windows and whatnot. (Perhaps Ty can ask her to decorate their new "open concept" home?)
Tyler tells his mom that he and Cate are thinking about having another baby, even though Cate is obviously not ready to do so, because she's struggling with depression and anxiety. Kim looks like she's seen a ghost. It's almost like she can't believe how dumb her kids can be at times.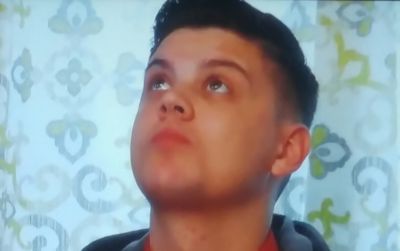 Next, the topic of Catelynn's weight comes up, and Tyler admits that he is nervous that he'll be stuck with a "heifer" as a life partner, especially if Catelynn keeps popping out kids. He vows to tell Catelynn that she's fat in a more sensitive way from now on, though.
In LA, Farrah and Simon are house-hunting, even though they're not technically together and Simon obviously can't stand the woman. Farrah, for some reason, is all suited up like Janet Jackson on tour, circa 1992. She must have borrowed the sparkly bustier from Deb.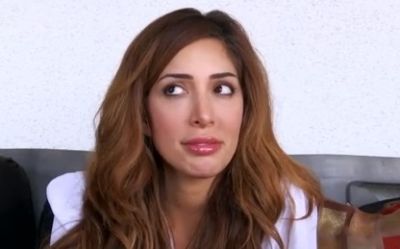 Farrah looks less-than-thrilled with the first property, which is really no surprise considering she hates, well, everything. Later, Farrah tells Simon that she will be hiring some poor au pair to take care of Sophia while she's off hawking her butts, podcasts and other assorted products.
Simon pretends to be excited that Farrah will be moving closer. Farrah, of course, just keeps running her mouth and refuses to let Simon talk at all. Again, business as usual.
Later, Farrah tells us that she's going to be shooting a scene for an independent horror film. (Shockingly, she's not referring to her famous "Backdoor" adult film, which may be the scariest thing ever recorded.) She phones in some "mom time" to Sophia and then proceeds to shoot the movie.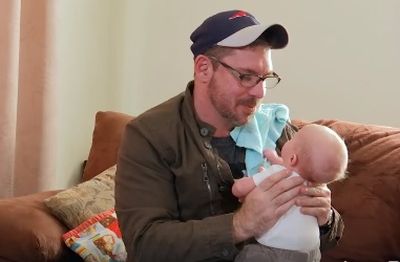 In Indiana, Cousin Krystal has invited Matt and Amber over to her house. They've allowed Matt to take care of Krystal's new baby, but he seems to have no clue what he's doing, despite the fact that he has more kids than the Duggar family. (Krystal even  jokes about this, which is basically awesome.)
Amber tells us that she's tired of people making jokes and stories about Matt's cornucopia of illegitimate and abandoned kids because…it's not that bad, anyway. I mean, everyone's fiance has a bunch of scorned ex-wives and kids they have never met…right?
Amber says that watching the last season of 'Teen Mom' depressed her so much that she couldn't get out of bed. (Luckily, she's now over that and moved back to her normal position on the couch.) Amber says she's had to get on anti-depressants to deal with all of the stress stemming from Matt's child support cases.
Meanwhile, Maci and Taylor are in LA. Naturally, he's sporting one of his super-cool shirts, and is planning to propose today. They drive to the beach for a supposed photo shoot, and Maci seems to have no idea that her proposal dreams are about to come true. She's sporting a uncharacteristically large camo jacket. Hmm…I wonder why?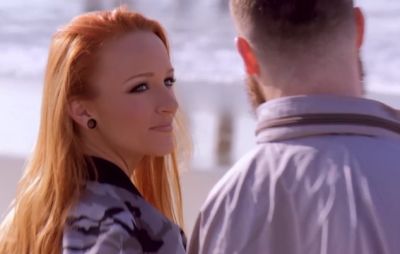 Anyway, they ask Taylor to get in a few photos. They are taking pictures together and you can just see that Maci's totally thinking, "These should be engagement pictures. Too bad this jerk-wad don't propose!"
Suddenly, Taylor drops to his knee and asks her to marry him. Of course, Maci accepts, and then just flat-out says, "Finally!" Ahh, the romance!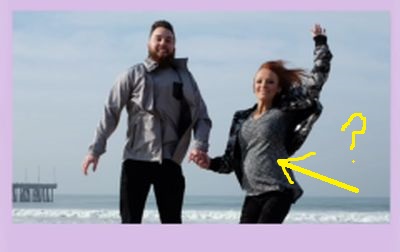 Maci celebrates her engagement by waving her ringed finger around and jumping into the air for a photo. Of course, Maci has "no clue" she's pregnant at this point, but there is a completely noticeable baby bump popping out of her jacket during this scene. Nice try, MTV! Are we supposed to pretend we don't see Maci's giant bump lurking under there? Seriously, the Three Blind Mice could see that baby bump, girl!
Maci goes back to the studio to announce that she's engaged and all of her 'Teen Mom' co-stars are thrilled for her. Amber and Catelynn are congratulating Maci and Taylor, while Taylor is just slugging champagne straight out of the bottle (as you do). Maci suspiciously avoids drinking, even though at this point she has "no clue" she's pregnant. Mmm-hmmm!
Everyone is very excited for Taylor and Maci. Even Farrah pops her head in to congratulate the couple.
"Now we need to make more babies too!" Catelynn yells.
Um…well, Maci has that basically covered. Just you wait…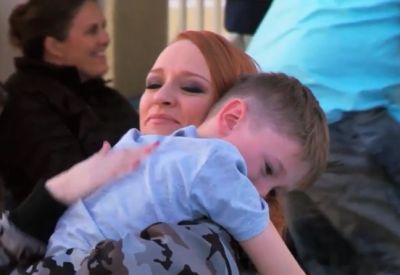 Maci is excited to tell Bentley her big news. They see him at the hotel, and she announces the engagement to the whole cast and crew. Bentley is so happy that he's crying, and it's incredibly sweet. You can tell that he just loves Taylor, and is thrilled when Taylor asks him to be the best man. Meanwhile, Ryan is just lurking in the background, looking creepy as per usual. Perhaps he's scouting for cats to shoot?
Until next episode!
To read The Ashley's recaps of other reality TV shows, click here!
(Photos: MTV)