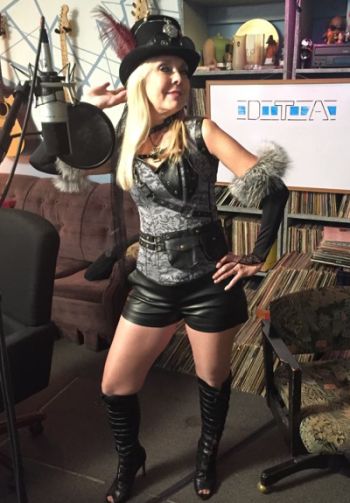 UPDATE! MTV has apparently moved up the "Being Debra" premiere date! The special is now airing on Wednesday, February 15 at 8 p.m. EST
Hold on to your pleather pants! The Teen Mom special about Debra Danielsen is officially happening!
Back in November, The Ashley told you that MTV was planning to do a one-hour special about Farrah Abraham's mother, Debra. On Wednesday, Deb herself announced on her personal Facebook page that "Being Debra" officially has an air date.
"Get ready for the premiere of the MTV Special "Being Debra" on April 3, 2017!" Debra wrote in the caption of a photo she posted of herself. (Naturally, Deb is wearing pleather Daisy Dukes, a top hat and knee-high stiletto boots in the photo….as you do…)
Debra has said that her fiance, Dr. David Mertz, will be featured in the "Being Debra" special, and it can be assumed that Farrah and Debra's ex-husband Michael Abraham will also be making appearances.
In the comment of her announcement, Debra hinted that she would be rapping during her special.
No, seriously…
"It is fun and David Merz and I had fun making it," Debra wrote to a fan about the special. "Hope you will enjoy my rap 'Debz OG' and the music video."
The Ashley is not sure if Debra is kidding about the rap music video or not but…she's praying to the reality TV gods that this is not a joke.
"Being Debra" is just the latest MTV special to focus on one of the parents of a 'Teen Mom' girl. Last year, the network aired "Being Barbara," which focused on Jenelle Evans' mother Barbara Evans, as well as "Being Butch," a special about Tyler Baltierra's father Butch Baltierra. (Click here to read The Ashley's recap of "Being Butch!")
The Ashley is not aware of any more "grandparent" specials being filmed at this time.
"Being Debra" will reportedly be airing on Monday, April 3.
(Photo: Facebook)