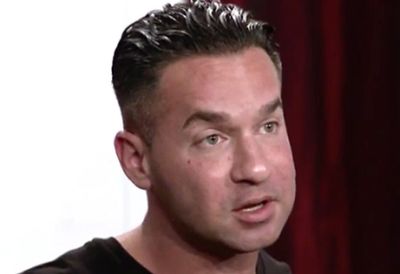 Mike "The Situation" Sorrentino is opening up about an addiction to prescription pain killers that he says practically destroyed his life.
The reality star, who shot to fame on MTV's Jersey Shore admitted to People magazine that he checked into rehab for a second time after suffering a sobriety relapse in 2015. He is now 18 months sober.
Mike, who is set to appear on Marriage Boot Camp Reality Stars: Family Edition, spoke with the magazine about his years-long battle with a pill addiction.
He first went to rehab in 2012 and managed to stay clean for almost two years, but in 2014 he was charged with failing to pay taxes on more than $8 million in income, among other things. (Mike's court case for those charges is still pending.)
To deal with the stress, Mike said he started working out, but after cracking a rib in June 2015, he was prescribed painkillers. Mike, who went to rehab in 2012 to deal with an addiction to Oxycodone, says that this is what triggered his relapse.
"From there it was just a spiral," he said. "Your emotions are blocked. So you really ruin relationships with everyone in your life."
Based on the dates given by Mike, he was still sober while filming 'Marriage Boot Camp: Reality Stars' Season 5, but fell off the wagon while the season was airing. He says he now has 18 months sober, which puts his sobriety date somewhere in October 2015.
According to Mike, his addiction issues put a wedge between him and his family. He told the magazine that filming 'Marriage Boot Camp Reality Stars: Family Edition' was stressful but it ultimately helped his relationships with his family and fiancé.
"It's my life, and I have to take care of it," he said of staying clean in coming years. "If I'm not healthy mentally and physically, I'm not going to make it."
Mike may be clean, but his troubles are far from over. Earlier this month, he and his brother Marc were each hit with new charges (in addition to the charges already pending against them.) Both brothers are charged with conspiring "to defraud the United States by not paying all federal income tax owed on approximately $8.9 million that Michael earned between 2010 and 2012," according to Page Six.
If Mike and Marc are convicted on all charges, they face some serious prison time. Mike could be sentenced to up to 15 years in prison, while Marc faces 25 years.
Mike will discuss all of his issues when he stars alongside Marc and their other brother Maximo on 'Marriage Boot Camp Reality Stars: Family Edition,' which premieres Friday on WEtv.
(Photo: WEtv)