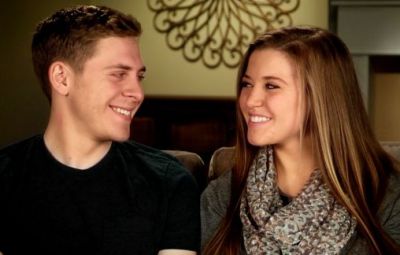 It appears that Joy Anna Duggar is still a single lady…for now, anyway.
A Facebook page known for having accurate inside info on the Duggar Family reported last week that Joy was going to marry her fiance, Austin Forsyth, last Saturday. However, it does not appear that the wedding actually took place. The Duggars did not post any videos from the wedding (as they have with the other girls' weddings), nor did they make an official announcement via the family's media mouthpiece, People magazine.
In addition, no paparazzi photos were taken of the wedding which, had there actually been a wedding, would be almost impossible to pull off. (For Jinger Duggar's wedding, the family did their best to avoid having photos taken, but they were unsuccessful at keeping the press away. On the episode of Counting On featuring the wedding, viewers can see that the family even placed large black screens in front of the church doors to keep photographers from getting a shot, but they still managed to take photos of the big day.)

In addition, a blog run by a Duggar family friend confirmed on its Twitter that Joy and Austin did not get hitched last week.
"It was rumored that Joy and Austin got married on May 20th and they did not," the blog tweeted. "This was confirmed by a family [member]."
Although Joy and Austin have yet to get married, they are getting hitched sooner rather than later. In fact, the couple applied for a marriage license on May 11 in Washington County, Arkansas. Per the county's rules, the license is valid for only 60 days after it is issued, meaning that the wedding will take place by July 10.
Given that Joy's sister Jill Dillard, and her sister-in-law Anna Duggar are both due to give birth this summer, it's unlikely that the family would have the wedding toward the end of the marriage license's time period.
To learn more about Duggar-style weddings, click here!
(Photo: TLC)