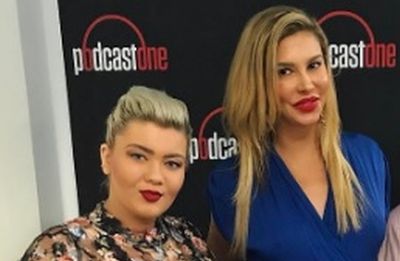 Last week Teen Mom OG star Amber Portwood was complaining that a certain "blonde jackass" and "drunk bimbo" was driving her crazy while filming inside the Marriage Boot Camp Mansion for the upcoming "Family Edition" season. Although Amber did not reveal who her filming foe was, we may now have our answer, thanks to Page Six!
The site reports that former Real Housewives star Brandi Glanville is one of the other people in the 'MBC' house with Amber and her former fiance Matt Baier. Brandi is reportedly filming the season with her father, Guy Glanville.
While The Ashley can't totally confirm (yet) that Brandi was the blonde that Amber was hating on while inside the 'MBC' house, Amber did provide a small hint that pointed that way. When one of Amber's Twitter followers suggested that the person Amber was talking about in her tweets may be Brandi, Amber liked the tweet.
The 'Boot Camp' Mansion is not the first place that Brandi and Amber have met. In May, Amber and Matt appeared on Brandi's "Unfiltered" podcast, just days before their relationship exploded due to cheating rumors and Matt's failed lie detector test.
During the podcast, Amber and Brandi got along swimmingly, but the stress of being locked in a house full of fame-hungry reality stars (and estranged family members) may have caused them to quarrel.
The Ashley is working to find out who else will be featured on the 'MBC' season with Amber, Matt, Brandi and Guy. Stay tuned!
(Photo: Instagram)