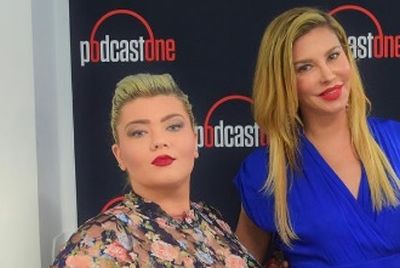 Score one point for Brandi Glanville! 
The former Real Housewives star, who is set to star on an upcoming season of Marriage Boot Camp Reality Stars: Family Edition, must have read the recent reports that she is feuding with her co-star Amber Portwood because she just responded…and quite brilliantly, actually!
Brandi basically confirmed that she is the person that Amber was calling names on Twitter last week. (As The Ashley previously reported, Amber was complaining about a "drunk bimbo" and a "blonde jackass" getting on her nerves while filming 'MBC.')
Brandi's tweet on Friday told fans all they needed to know about where Brandi's relationship with Amber stands.
"I'm not feuding with ANYONE especially unstable overmedicated narcissistic people that pretend like they're sober U can't fight with crazy," Brandi wrote.
Although Brandi never specifically mentions Amber's name, any Teen Mom fan can tell that she was referring to Amber in the tweet. After all, fans have been accusing Amber for years of "pretending to be sober," given that she is frequently seen drinking on 'Teen Mom OG,' and her sobriety was recently called into question after she posted some very unsettling late-night Instagram rants.
Amber has yet to respond to Brandi's thinly veiled insults.
There has been no air date announced for the 'MBC' season starring Amber (who is partnered with her ex-fiance Matt Baier) and Brandi (who went on the show with her father, Glen Glanville). From what The Ashley has heard, the network will air the season of regular 'Marriage Boot Camp' (that stars Teen Mom 2's Kail Lowry and Javi Marroquin) first, and then follow it up with the 'Family Edition' season with Amber and Brandi.
To read our recaps of the most-recent season of 'Marriage Boot Camp: Family Edition' (starring Farrah Abraham and her parents), click here!
(Photo: Instagram)