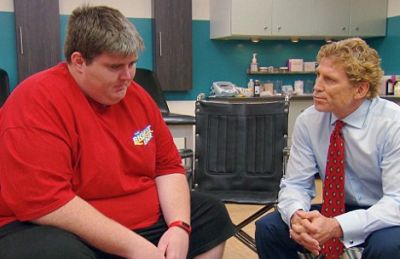 It appears that The Biggest Loser will not be returning to the air. Cancellation rumors regarding the NBC weight loss show have been circulating for a while, and now one of the show's stars, Dr. Robert Huizenga, seems to be confirming that the rumors are true.
A rep for NBC has been quoted to have said that there aren't any 'Biggest Loser' episodes currently in production, and that we probably shouldn't expect any updates any time soon.
The show has been running for an astounding 17 seasons — it started way back in 2004 — and let's face it, it's not like they can change the format that much. This could be NBC bluffing their way out of a tough corner, but if that's the case, they really need to read up on how to do it properly.
The show has been hit with multiple scandals in recent years, including when several former contestants came forward last year with claims that Dr. Huizenga and trainer Bob Harper encouraged them to take diet pills and engage in dangerous activities in order to lose weight for the show.
Earlier this month, The Daily Mail got a hold of court documents filed by Dr. H in a lawsuit he filed against former 'Biggest Loser' contestant Joelle Gwynn, who, in 2016, told the New York Post that Dr. H encouraged her to take diet pills, Adderall (an appetite suppressant) and even pills that had ephedra extract—which is banned by the FDA—in order to lose weight while on the show.
Dr. H is suing Joelle (who appeared on the show in 2008) over the allegations, stating in the legal documents that Joelle's story was "fabricated, fictitious and outright libelous." He emphasized that he only promotes "safe and effective weight loss methods."
The court documents also revealed that the show has been officially cancelled (although NBC has not yet confirmed the claim), and that Joelle's statements are to blame.
"Ms. Gwynn's outrageous accusations, which resulted in the cancellation of 'The Biggest Loser' and Dr. Huizenga losing two other opportunities on television, are particularly egregious given Dr. Huizenga's strict life-long anti-drug beliefs and strict anti-drug policy on 'The Biggest Loser,' where he did not even permit contestants to take legal, over-the-counter caffeine pills or drink more than one cup of coffee, much less illegal drugs," the court papers state.
Of course, this is not the only bad press the show has had in recent years. Many former contestants have gained back most (or even more!) of the weight since their season of the show ended. Earlier this summer, six former contestants appeared on The Big Fat Truth, which discussed the contestants' post-show weight gain at length.
(Photo: NBC)