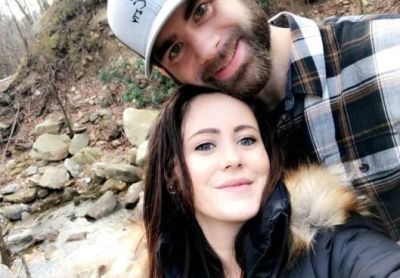 Jenelle Evans married David Eason last weekend and, while the Teen Mom 2 star enjoyed her backyard ceremony and hootenanny reception, she is most likely enjoying the days after the wedding even more, thanks in part to the money she made off the wedding!
The Ashley can confirm that the 'Teen Mom 2' stars got a big paycheck from MTV for their wedding– and it wasn't a wedding gift! 
According to The Ashley's sources, Jenelle refused to allow the network to film her wedding for the show unless they paid her extra.
"The higher-ups would not pay her extra to shoot the wedding at first," a source tells The Ashley. "Eventually, after a lot of back-and-forth, MTV and Jenelle agreed that MTV would pay Jenelle and David a 'location fee' rather than a flat-out payment to film the wedding."
The Ashley hears that Jenelle and David pocketed a cool $15,000 from MTV as a "location fee" for allowing 'Teen Mom 2′ cameras to film on "The Land" that Jenelle and David own.
"MTV certainly would be trying to keep that on the downlow, though," the source added. "It doesn't look good when fans see them giving in to the stars' demands."
As The Ashley previously told you, Jenelle and David were also offered big bucks by a tabloid to cover the wedding exclusively. From what The Ashley heard from multiple sources, the couple were offered somewhere around $15,000 by American Media Inc., (the company that owns Radar Online, OK! magazine and more). The Ashley initially heard that the couple turned the deal down (although this may be the deal David accepted later without Jenelle's knowledge. This is still rather hazy, even for The Ashley.)
(Obviously there has been much written about a reporter sneaking on to "The Land" to shoot the wedding from the bushes. The Ashley is not commenting on that, since she can not get confirmation on what happened one way or another.)
Anyway, The Ashley is not sure if Jenelle and David ended up taking the deal they were offered by the tabloid. However, it was, indeed, offered. Jenelle even tweeted about this earlier this week.
"Trying to offer us tons of money, you can keep every penny.  @OKMagazine @radar_online," Jenelle wrote a few days after the festivities.
If they did accept the deal, that means Jenelle and David made at least $30,000 on their wedding.
Jenelle also tweeted that she and David chased away a paparazzi drone that was on their property before the wedding. The Ashley's source tells her that this is also true.
"David was threatening to shoot it down, but they eventually used their drone to chase it away," the source tells The Ashley.
(Photo: Twitter)