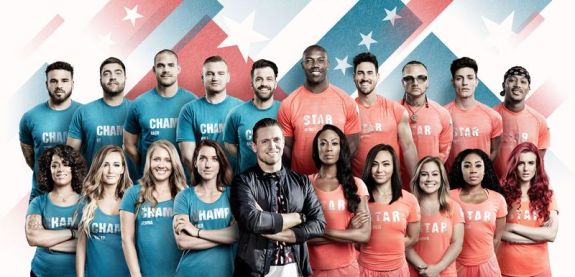 Feast your eyes on the cast members of the upcoming season of MTV's The Challenge— "Champs vs. Stars"… well, most of them anyway.
The network revealed which cast members from 'The Challenge' would be facing off against an odd collection of pro athletes, rappers and reality TV stars in the new season, which premieres next month. However, MTV conveniently "forgot" one 'Challenge' star who was originally on the season: Camila Nakagawa.
Although Camila definitely participated in the season, she is nowhere to be found in the cast photo released yesterday. It's not surprising, though. As The Ashley told you last month, Camila had an epic meltdown (even for her) during 'Champs vs. Stars' after she was voted into an elimination round. After Camila allegedly got violent with a production assistant and stole a golf cart, she was kicked off the season (and, from what The Ashley hears, placed on the short list of former 'Challenge' competitors who are not to be called for future seasons).
While Camila is absent from the photo, the other stars– and the ragtag reality star/athlete/rapper team they'll be facing–are shown. Just like the 'Champs vs. Pros' season, all competitors on 'Champs vs. Stars' will be playing the game to win money for a charity of their choice. The season will run for eight weeks.
The rules of the game will be a bit different than those of 'Champs vs. Pros' though, according to MTV.
"The winning team from each challenge will nominate their most valuable player (MVP) who will receive money for their charity, be safe from elimination, and choose their team's least valuable player (LVP) to go into elimination."
The men on the Champ team will be Wes Bergmann, CT Tamburello, Johnny Bananas, Zach Nichols and Cory Wharton. The women include Aneesa Ferreira, Jenna Compono, Ashley Mitchell and Emily Schromm. (Notice there is one less woman than man on the squad, due to Camila getting the boot.)
The 'Stars' team includes Olympic gymnast Shawn Johnson, Olympic volleyball player Kim Glass, NFL star Terrell Owens, rapper Riff Raff, rapper Romeo Miller, 'The Bachelor' franchise star Josh Murray, comedian Matt Rife, 'Total Divas' star Ariane Andrew, 'Wild 'n Out' star Justina Valentine, and UFC athlete Michelle Waterson.
(From what The Ashley hears, this is the season that Teen Mom 2 star Javi Marroquin was being considered for. He obviously didn't make the cut, though.)
Anyway, the show will be hosted by former 'Challenge' contestant (and current WWE star) Mike "The Miz" Mizanin. The season was filmed back in August.
'The Challenge: Champs vs. Stars' premieres November 21 on MTV.
(Photo: MTV)