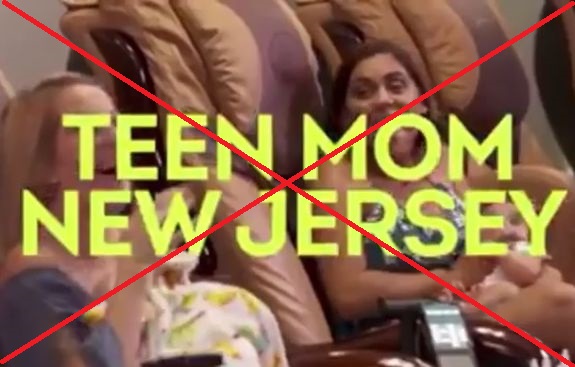 (Note: Please file this under 'Report' until The Ashley can 100 percent confirm it.)
Sorry Tri-state Teen Mom fans, but it looks like Teen Mom New Jersey is a no-go.
The Ashley can exclusive reveal that MTV is reportedly pulling the plug on the Garden State-themed 'Teen Mom' spin-off show, before it ever even aired!
The network announced the show in the summer, stating that we would meet the new cast of young New Jersey-based moms "in the fall." Social media pages were created for the new show, and a few short clips were incorporated into a fall trailer of MTV shows, but since then the network has released anything new about 'Teen Mom New Jersey'… and The Ashley knows why!
"Last weekend the girls on the show got calls basically informing them that the show isn't going to air," a source tells The Ashley. "They didn't really give them an explanation—just the standard 'We're moving in another direction' line. The girls are really upset because they've worked so hard on this project and were really excited for its premiere."
Now, The Ashley is still working to confirm this part, but there's still a possibility the show could end up airing at another time, or on another network. As of right now, however, The Ashley is hearing that it's trashcanned.
Look on the bright side: you'll always have Teen Mom OG and Teen Mom 2! (For the record, 'Teen Mom New Jersey' was not produced by the same production company that does the rest of the 'Teen Mom' franchise shows.)
The Ashley has reached out to MTV for comment on this story but has yet to hear back. The Ashley will update this story when she has more information.
(Photo: MTV)