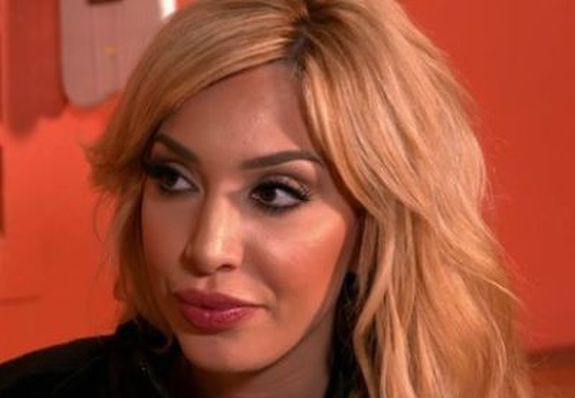 Farrah Abraham claims that TLC's new teen pregnancy show Unexpected is better than the show that made her famous, Teen Mom. Farrah blasted the 'Teen Mom' franchise (which she got the boot from earlier this month) in a series of tweets posted this week. And, of course, the tweets were all in her signature "Farrah-speak."
"Love 'Unexpected' how honest and non-scripted it is! Honest story telling! MTV needs to take notes their fake teen mom quality is not even credible to watch anymore…OG real talk," Farrah tweeted.
Farrah doesn't exactly have an unbiased opinion. In addition to being recently fired from 11th Street Productions (the company that produces 'Teen Mom') her friend and former producer, Heather Walsh, is now a producer on 'Unexpected.' As The Ashley previously reported, Heather was fired from 'Teen Mom' a while back.
Fans were quick to jump in and call Farrah a hypocrite because of her tweets.
"Farrah. Fake nose, chin, 2x fake boobs, fake butt. And you're calling MTV fake. Wow. Look in the mirror," one fan tweeted.
"Oh, I agree. [Teen Mom] hasn't [been real] for a while," another fan wrote. "But, coming from someone who was supposedly fired, it's hard not to think there isn't some bitterness. Farrah isn't an example of the realities of teen motherhood either."
Farrah's dad, Michael Abraham joined the online conversation to defend his daughter.
"Yes [Farrah] is a pure example of teen motherhood. More so than any of them," Michael tweeted. "She is a true single mother…Sophia's dad passed away before she was born. Like it or not 68% of all teen parents work in the adult industry because they can't any other work- that's a documented fact," he tweeted.
(For the record, The Ashley could not locate any information on studies done to prove this as a fact.)
Naturally, 16 and Pregnant star Nikkole Paulun—who is never one to miss an opportunity to get some publicity–also chimed in with her thoughts.
"Farrah's right. 'Teen Mom' is so unrealistic that people don't even know what being a teen mom is really like anymore. I hope this new show gets the message out better than MTV has," she wrote.
'Unexpected' star Lexus Scheller seems to agree with Farrah, too. She recently blasted the 'Teen Mom' shows in an interview with Us Weekly.
"Our show's a lot different…there's not as much drama [as on 'Teen Mom']," Lexus said. "I think it's more real. Our problems are more realistic than [those of the girls on] 'Teen Mom' and shows like that. I feel like our stories are better!"
(Photo: MTV)