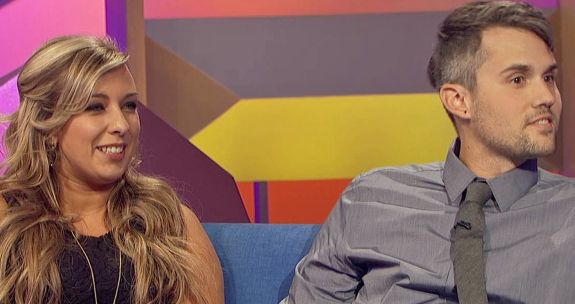 It's official: Teen Mom OG stars Ryan Edwards and Mackenzie Standifer are (still) husband and wife.
The Ashley can reveal that the couple got married (again) on Saturday at the Patten Chapel on the University of Tennessee Chattanooga campus. The chapel features oak pews, stained glass windows and woodwork arches at the altar.
This is, of course, their second wedding in a year. (The first wedding took place in May outside of an aquarium, with only Ryan's parents as witnesses.)
Mackenzie's son Hudson and Ryan's son Bentley attended the wedding on Saturday. (Mackenzie told E! News earlier this week that Bentley is unaware that she and Ryan tied the knot in May.)
Mackenzie wore a floor-length gown and veil, and carried a blush and gray-colored bouquet full of roses and silverberry.
Ryan donned a black tux. (This is a much fancier outfit than the one he wore the day he and Mackenzie first got married, considering he didn't have time to go to the TJ Maxx and purchase a bowtie, as he told us during the wedding episode!)
From the looks of it, Ryan's father, Larry, may have been his best man.
Their reception was held at The Peyton event venue in Chattanooga, and was decorated in a rustic yet romantic theme. Guests were seated at extra large farm-style tables that were decorated in greenery and candles.
As The Ashley previously told you, this wedding re-do was filmed for the upcoming season of 'Teen Mom OG.' (In one of the photos below, a member of the crew can be seen filming the ceremony.)
"They will be filming at the wedding, and a crew has been there capturing the pre-wedding stuff too," a crew source told The Ashley before the wedding. "For awhile [production] wasn't sure if Ryan and Mackenzie would allow the wedding to be filmed, since they declined to come to Los Angeles to film the special with the rest of the cast in October, and some other things. But they are filming it."
Ryan's ex and baby-mama, Maci Bookout attended the festivities with her husband Taylor McKinney. As 'Teen Mom OG' fans will remember, Mackenzie and Ryan attended Maci and Taylor's wedding last year. (Mackenzie actually caught the bouquet!)
"Everything is just kind of at a resting place right now. It's about our boys," Mackenzie told E! News. "This is a day about us, yes, but it's also about us becoming a family."
This is the first marriage for Ryan and the second for Mackenzie.
See the photos of the wedding below. And, if you would like to get the happy couple a wedding present, they still need an ironing board and a crockpot! (Wanna see their wedding registry? Of course you do!) 
(Photos: MTV, Instagram)