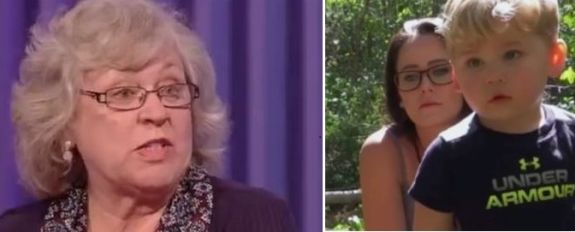 It's been four months since the paternal grandmother of Jenelle Evans' son Kaiser attempted to get custody of the boy away from the Teen Mom 2 star and her husband David Eason and now, after months of waiting, The Ashley finally has an update on the situation.
Doris Davidson, the mother of Nathan Griffith, filed for emergency custody of Kaiser on September 1, stating that the boy was being physically abused by Jenelle and her soulmate David, among other allegations. (You can read more about that here.)
Now The Ashley can exclusively reveal that Doris is attempting to work with Jenelle's attorney to mediate.
"Basically, Doris is backing down," The Ashley's source tells her. "Doris is hoping to get Jenelle to agree to make a schedule for Kaiser."
The source tells The Ashley that Doris and her legal team are attempting to work things out with Jenelle and her team via private mediation so that they don't have to go to court.
"Doris is trying to keep it out of the media I think," the source added.
We last saw Kaiser's grandma during the 'Teen Mom 2' Season 8A Reunion special when, after Jenelle and David stormed off the set while filming, Doris and Nathan hit the stage to discuss the custody filing and the general situation on "The Land" for Kaiser.
"I worked for youth services for 10 years, I worked for the state of Ohio for 31 years in different capacities and I've seen abuse, I've seen children go through it, I know the red flags and I see red flags. They're popping up everywhere," Doris told Dr. Drew Pinsky on stage.
The Ashley will update this story when she has more information!
(Photos: MTV, Instagram)