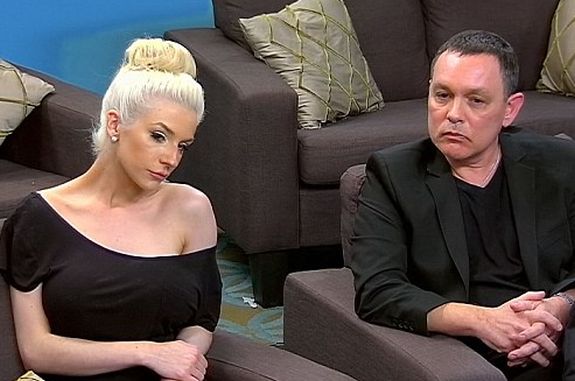 Several weeks after his soon-to-be-ex-wife Courtney Stodden took to social media to publicly beg him to give her another chance, Doug Hutchison has finally responded.
Doug, who is in the middle of a divorce with Courtney, spoke to DailyMailTV about Courtney's bizarre social media postings from earlier this month in which the singer/reality TV star/adult film star pleaded with him not to go through with the divorce. This marks the first time Doug has spoken publicly about his divorce.
"I have been left so confused and hurt. I am actually distraught by this," Doug told the site. "I cannot understand why Courtney posted that message on social media."
As The Ashley previously reported, Doug and Courtney split in 2017 after six years of marriage. (Courtney even hosted a "divorce party" at a Vegas strip club to celebrate her newfound freedom!) Their relationship has been tumultuous since the beginning, when they got married in 2011 while Courtney was only 16 and Doug was 51. In 2013, they appeared on Couples Therapy to repair their marriage after a separation.
Doug told DailyMailTV that he and Courtney haven't seen each other since September and haven't spoke on the phone since December, but he did reach out to her after seeing the messages she posted on social media about him. He claims he asked her to leave California and come stay with him in Michigan, where he's been living since their split.
"I still begged her to come to Michigan and work on our marriage, and she wouldn't," Doug said. "And that spoke volumes to me.
"She is addicted to fame," he added.
Doug confirmed that his divorce from Courtney is still on.
"Ultimately I want her to be happy first and foremost," he said. "I love her with all my heart, we are soulmates and I will always love her….I don't think even Superman could be married to that woman."
Doug also spilled the beans on the state of Courtney's finances. In the interview, he claimed that Courtney is desperate to stay in Hollywood, even though she's broke.
"Courtney has to be out of her apartment at the end of the month," he said. "She was telling me she was considering moving in with this other man she was seeing, so I just didn't see how we were ever going to make it work. I said to her, 'Darling, you are seeing other men, and going on dates, and are looking to move in with someone else. I don't see how we can do that.'"
Doug warned the new man in Courtney's life, entrepreneur Chris Sheng, to guard his heart… and possibly his wallet.
"The thing is she doesn't have any money, and he started paying her rent, and she really wants to stay in Hollywood," Doug said. "She has been telling me all along she feels caught in the middle and still loves me, even though we are getting divorced…She says she is not in love with him. I know that he has a great deal of money. I think she may have found her sugar daddy."
Doug said he is scared for Courtney's well-being at times.
"I know she struggles with depression and anxiety and it's heartbreaking to see her upset," he told the site. "I don't want Courtney to go down that road [that her idol Marilyn Monroe did]. I don't want Courtney to die at 36 and succumb to Hollywood's dark side."
(Photo: Lifetime)