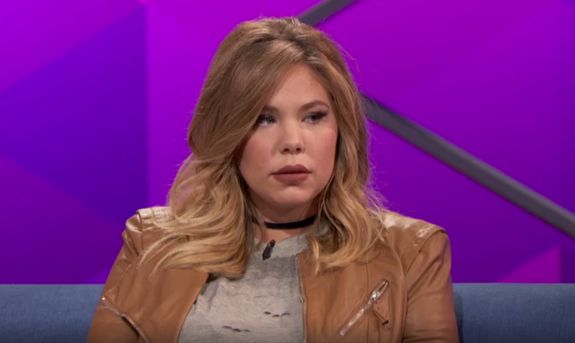 Kail Lowry has been in the public eye for nearly 10 years but the Teen Mom 2 star, who we first met on 16 and Pregnant, says it's getting harder and harder to be famous.
In a series of tweets posted on Monday, Kail stated that lately she's been having a difficult time dealing with the negativity that comes along with being a public figure.
"Out of 10 years on TV I'm having the hardest time NOW," she wrote. "The pressure of outsiders, the criticism, the judgement. Sure I put myself out there. But never in my life have I seen or felt cruelty like I have lately."
Although Kail acknowledged that she knew what she was signing up for when she agreed to put her life on TV back in 2009, she says that fans have become more critical in recent years.
"'It comes with the territory' no s**t. But it seems to get worse over time. Not better," Kail tweeted. "Sometimes I'm numb to it. Sometimes I don't read it. Sometimes it doesn't bother me but sometimes it does. And today it does."
It appears that Kail's declaration stems from a series of paparazzi photos that were taken of her at the beach during her recent trip to Miami. (As The Ashley previously told you, Kail went to Florida to have plastic surgery with Dr. Miami but backed out at the last minute, choosing instead to try to lose weight and get fit without surgery.)
"Paparazzi f**ked my own head up after they sold the pix of me on the beach," she confessed. "I didn't go through with my surgeries in Miami so let's sell unflattering pix of Kail @ the beach so everyone can see her fat & cellulite to make her regret cancelling."
She admitted that she struggles with her weight, a struggle that's made worse by the constant teasing she says she receives from online critics.
"I can read & write books, study for a test and pass, teach my kids manners. But i can't tell myself to pick a f**king salad over a burger and then wonder why I struggle in the gym," she tweeted. "Hate myself for it. Then come online & hear it from everyone else too."
Kail's rant was met with a mix of support and criticism.
"I'm sure you can hide your feelings behind all the money you get, spend and the plastic surgery. You reap what you sow!" one person wrote in response to Kail's tweets.
"It's very sad to read this, to see how cruel the world can be," another person wrote. "I hope you can move past the criticism online, ignore it. It's your journey, your struggle you will find a way!"
Here's one of the videos that upset Kail:
(Photo: MTV)