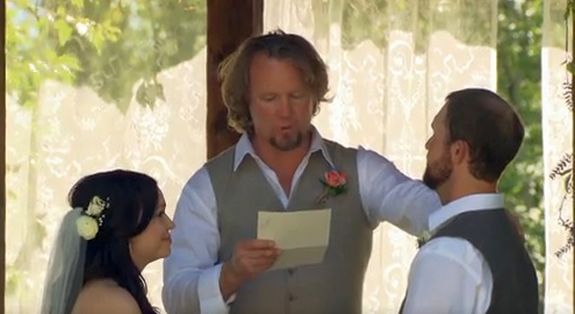 Wives since the reality show about the polygamous Brown family premiered back in 2010. Although family patriarch Kody Brown has walked down the aisle four times, only his wedding to Robyn made it on the show.
Lately, though, the Brown family offspring have been getting hitched. Two of the adult daughters had weddings in 2016, and two more of Kody's kids are currently engaged, which means there are plenty more Brown family weddings coming our way in the future.
This seemed like a good time for The Ashley to take a look at all of the 'Sister Wives' weddings…by the numbers!
0          Number of times Kody and Christine kissed before they were married
1          Number of Kody's wives who wore black to their wedding  (It was Janelle, by the way)
1          Number of failed courtships Kody has had (He courted a girl a year after marrying Meri, but she ditched them. A few years later, he married Janelle.)
1          Number of Brown brides who sewed their own wedding gown (It was Meri)
1          Number of dates Kody and Janelle went on before they got married
1          Number of Brown family weddings where alcohol was served (It was Maddie's, by the way)
1          Number of sister wives who wore a vest to Maddie's wedding to Caleb (It was Meri, and it was awful)
1          Number of Brown women who spent her wedding night in a treehouse (It was Maddie)
2          Number of "sections" at the wedding reception of Kody and Robyn (One section was being filmed for 'Sister Wives' and one was camera-free)
2          Number of Kody's wives who had been married to someone else before they married Kody (Janelle was previously married to Meri's brother, and Robyn was married to  David Preston Jessop before she married Kody.)
2          Number of Brown weddings that Truely Brown has been a flowergirl at (She did the job for the weddings of Maddie and Mykelti.)
2          Number of wedding ceremonies Kody and Robyn have had (They had a spiritual wedding in 2010 and a legal wedding in 2014.)
2          Number of Brown women who had their groom help choose their wedding dress (Kody helped choose Robyn's dress and Tony helped Mykelti pick hers.)
2          Number of Kody's wives who admitted they didn't love Kody on their wedding day (Both Janelle and Christine have stated that it took them a while to fall in love with Kody after marrying him.)
3          Number of years Kody and Meri were married before Janelle joined the family
4          Number of months Kody and Meri courted before getting married
4          Number of wives who didn't have sex with Kody until after they were married
6          Number of months between Kody and Robyn's engagement and their wedding day
6          Number of months Janelle's marriage to Meri's brother lasted before they separated
8          Number of different cake flavors served at Mykelti's wedding to Tony
9          Number of years older Caleb was than Maddie when they got married
11        Number of days Kody and Robyn honeymooned in San Diego (and his other wives were not happy about it!)
16        Number of years between Kody's wedding to Christine and his wedding to Robyn
19        Number of years old Meri was when she married Kody
20       Number of years old Maddie was when she married Caleb
20       Number of years old Mykelti was when she married Tony
21        Number of years old Christine was when she married Kody
22        Number of years old Kody was when he married Meri
23        Number of years old Janelle was when she married Kody
28        Number of years of marriage that Meri and Kody will celebrate in 2018
31         Number of years old Robyn was when she married Kody
200      Number of guests at Kody and Robyn's wedding in 2010
365      Number of days Christine says it took her to fall in love with Kody after their wedding day
4000    Number of tacos Mykelti and Tony demanded be served at their wedding reception
7000    Number of handmade flowers petals Mykelti demanded be at her wedding
2.7 million       Number of viewers the Season 1 finale—which featured Kody and Robyn's wedding—had
Did you enjoy this post? Check out The Ashley's "Duggar Family Weddings: By the Numbers" post by clicking here, and the "Teen Mom Weddings: By the Numbers" post by clicking here!)
(Photo: TLC)