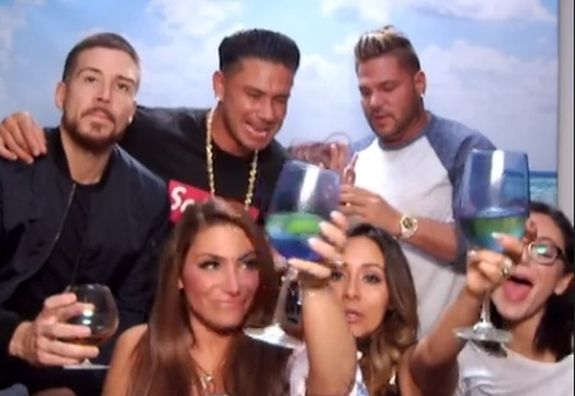 Jersey Shore fans won't have to wait long to see their favorite guidos and guidettes back on their TV screens!
MTV has announced that the 'Jersey Shore' crew (minus Sammi "Sweetheart" Giancola) will be GTL'ing in Miami on the upcoming Jersey Shore Family Vacation, which will premiere on MTV this April. While Sammi will be a no-show, there will be a very special guidette taking her place on 'Vacation!'
In a new teaser for the reunion-style spin-off, potential storylines aren't revealed; however, we can expect more pickle-eating from Snooki, a much-anticipated revival of the Vinny–Pauly bromance, dry humping and lap dances among roommates, drinking (duh) and some meatball mischief.
In other words, it's business as usual!
Joining Snooki, Vinny and Pauly on vacation will be Mike "The Situation" Sorrentino, Jenni 'JWOWW' Farley, Ronnie Magro-Ortiz and Deena Cortese…and one very special surprise guest.
In a clip posted to the official 'Jersey Shore' Instagram account, Mike opens the door to find his former roommate Angelina "Umm… Hello!" Pivarnick standing there…with luggage! (Hey, at least she didn't have her stuff in trash bags this time around!)
Angelina comes in, ready to fight with a totally surprised Mike.
"You think I'm a dirty little hamster!?" she screams as she charges into the vacation home.
"Yo….who sent you?!" he asks, wide-eyed.
It is not yet know how long Angelina will be staying at the gang's Florida digs.
The South Beach setting for 'Family Vacation' is the result of a Viacom social media campaign that asked fans to submit their picks on where the group should vacation. This will be the first time the cast has returned to Miami to film since the second season of 'Jersey Shore' in 2010.
A lot has changed for the cast members in the six years since 'Jersey Shore' went off the air. Snooki and JWOWW are each are married with two kids, while Deana is also recently married. Pauly is now the father of a young daughter, and Ronnie and his girlfriend are currently expecting a baby girl in the next few months. Mike is currently awaiting his prison sentence, after pleading guilty last month to various tax fraud charges. (He had to receive special permission from a judge to go to Miami to film 'Family Vacation.')
Anyway, fans can tune in and fist pump along as the gang returns for what MTV is calling "the vacation of a lifetime" beginning "Jerzday" April 5.
When it airs, 'Jersey Shore Family Vacation' will make MTV history. The show is due to debut in nearly 180 countries, marking MTV's first global premiere.
Watch the newest teaser clip of the show below:
(Photo: MTV)