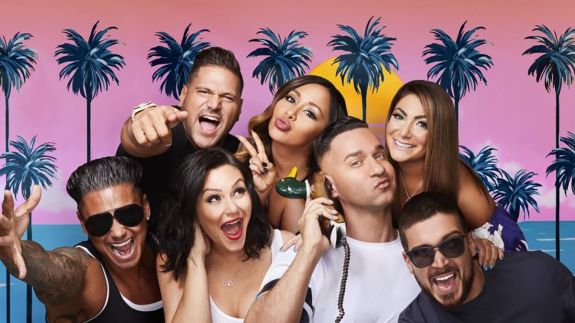 Yeeeeah buddy! The official trailer for Jersey Shore: Family Vacation is finally here!
We're just weeks away from the show's premiere– which will mark the first new episode of 'Jersey Shore' we've seen in over five years! MTV was kind enough to give us a taste of what's to come when the show premieres on Thursday, April 5 by releasing a full-length trailer.
Judging from what we see in the clip, all of the mainstays of 'Jersey Shore' will be part of 'Family Vacation,' including nights spent in 'da club,' Snooki calling everyone "bitches" in between shrieking sessions, and plenty of "GTL"-ing and fist-pumping.
"We're older but I don't think many of us are wiser," Ronnie tells us.
"We're goin' harder than we ever have before!" Pauly D says.
However, a lot has changed in five years. Gone are the epic Ron and Sam fights of yesteryear. (Hell, Sammi isn't even part of this show.) They have been replaced by Ronnie caring for his pregnant girlfriend Jen Harley. JWoWW still wants to party, but now she is plagued by "mom guilt" for leaving her two young children at home. Mike "The Situation" is finding that his legal problems and impending prison sentence are getting in the way of his good time.
"Prison's no joke, it's scary…he's literally not going to survive," Snooki says of Mike.
Snooki, JWoww, The Situation, DJ Pauly D, Ronnie, Vinny and Deena will all be back, as will Angelina Pivarnick, who will be surprising the cast at some point in the series. (Sammi is the only original cast member who declined to go on the 'Family Vacation.')
The guido hair sculpting and beer bonging on 'Jersey Shore: Family Vacation' starts Thursday, April 5 on MTV.
Watch the trailer below!
(Photo: MTV)