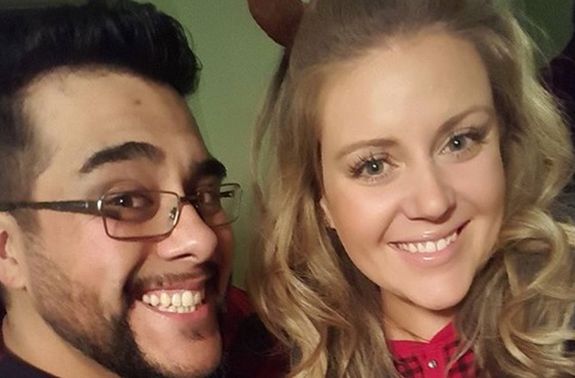 They may have met on The Biggest Loser but Jessica Limpert and Ramon Medeiros ended up winning in love.
The couple, who met when they both starred on Season 12 ("Battle of the Ages") in 2011, got married on Saturday after six years together. The ceremony took place at Heinz Memorial Chapel in Pittsburgh, Pennsylvania.
Jessica posted a few photos from before and after the ceremony and reception.
"Today our fairy tale becomes reality #finallyforever," she captioned a photo posted on Saturday, later adding, "It's official! Thank you to everyone who witnessed our special day and to those who have supported and congratulated us near and far! We love you all! We are off to celebrate being Mr. and Mrs.!!"
The couple has been engaged since February 2017.
Ramon and Jessica lost 154 and 84 lbs., respectively, on 'The Biggest Loser.' Although neither took home the season's grand prize, they did both score jobs working at the Biggest Loser Ranch as certified personal trainers and motivational speakers for a period of time after their season ended. However, Jessica came forward in a 2017 Women's Health article to reveal she now weighed more than she did when she began 'The Biggest Loser.'
"Three years post-show, I was hiding under a rock and gained all the weight back and then some," she told the magazine. "At that point, I weighed 323 pounds."
Ramon had also gained back most of the weight he had lost on 'Loser.' The couple decided to go on The Big Fat Truth in 2016, which helped them learn to deal with their emotional ties to food, as well as the physical aspects of weight loss.
Jessica and Ramon are not the only couple from 'The Biggest Loser' to find love. Season 8's Rebecca Meyer and Daniel Wright are still married, as are Season 2 winner and runner-up Matt and Suzy Hoover. Antoine Dove is still married to Alexandra Wright, whom he proposed to during the Season 8 finale. Marty Wolff and Amy Hildreth, who met on Season 3, are still married as well. Season 14's Jeff Nichols and Francy Morillo have been together since their season aired in 2013.
See photos from Jessica and Ramon's big day below:
(Photos: Instagram)