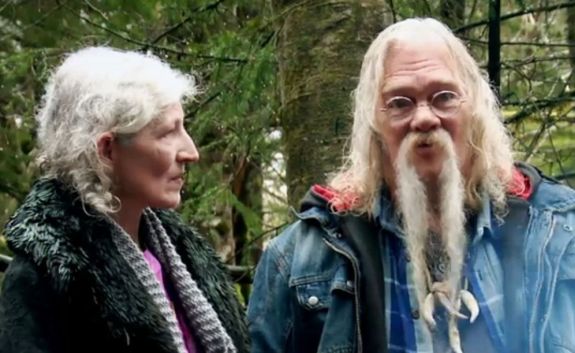 'Bush People' fans rejoice! Despite rumors to the contrary, Alaskan Bush People has not been cancelled.
"The rumors of the cancellation of 'Alaskan Bush People' are totally fabricated and completely untrue," Executive Vice President of Public Relations for Discovery, Laurie Goldberg, told Radar Online earlier this week. "We are filming for the new season as we speak."
Rumors started to fly that the Discovery Channel hit show was cancelled due to star Ami Brown's recent battle with cancer. As we reported previously, last August Ami was given a "grim" diagnosis of advanced lung cancer. At the time, Ami's husband Billy Brown told People that her quoted survival rate was as low as three percent.
After undergoing treatment, Ami's condition has greatly improved. In January, she reported that she is currently cancer-free.
"The doctors were as shocked as we were," Billy said.
Ami is well enough to resume filming but, due to other circumstances, the show's premiere date and filming schedule got pushed back, according to Discovery. (Below, Brown daughter Rain is shown working with the show's camera crew in March.)
The show's filming schedule has been set back by bad weather and bad health.
"First of all, this has been the longest winter in the region," the Discovery exec told Radar. "Secondly, there have been severe health issues with several members of the Brown Family. Noah had emergency gallbladder surgery and Gabe had an awful flu-like illness for weeks.
"Basically every single element that could possibly work against the Brown family and the production of the show has been," she added. "But Billy, Ami and all of the children are incredibly excited to be filming for the new season right now, as are we at Discovery."
The show's eighth season was originally scheduled to premiere May 11, but that date has since been pushed back. The Discovery Channel has not yet released a new Season 8 premiere date.
(Photos: Discovery Channel, Instagram)