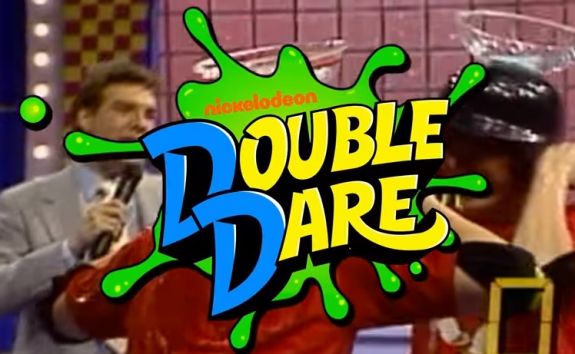 Kids of the 1980s and 1990s who never had a chance to slide themselves into a giant ice cream sundae or pick an oversized nose on Double Dare are getting a second shot at living their Nickelodeon dream!
The network announced on Wednesday that it is reviving its slime-filled game show this summer for 40– count them— 40 new episodes that will premiere this summer.
"The new version will feature the gameplay and challenges its original millennial audiences remember from the show, as well as appearances from blasts from the past and stars from today," a Nickelodeon press release states.
The original 'Double Dare,' which premiered in 1986, was spun-off several times during its run: 'Family Double Dare' premiered in 1988 and 'Double Dare 2000' aired in 2000. It is not yet known if families will also compete, in addition to kid pairs. (That would give the '80s and '90s kids a chance to compete, now as moms and dads!)
Original 'Double Dare' host Marc Summers has yet to reveal if he will return to host the new episodes. However, on Wednesday he tweeted out the Nickelodeon press release announcing the revival, captioning the tweet, "Isn't this interesting?"
It's also unknown if longtime stagehand Robin Marrella will return to the show. However, both apparently attended a "Corporate Date" in regard to 'Double Dare' last week, according to a post on Marc's Instagram account.
'Double Dare' is not the only '80s/'90s game show that is being resurrected. It was recently announced that Supermarket Sweep will also be revived, with new episodes airing soon.
Watch the first trailer for the new 'Double Dare' episodes!
(Photo: Nickelodeon Press, Instagram)