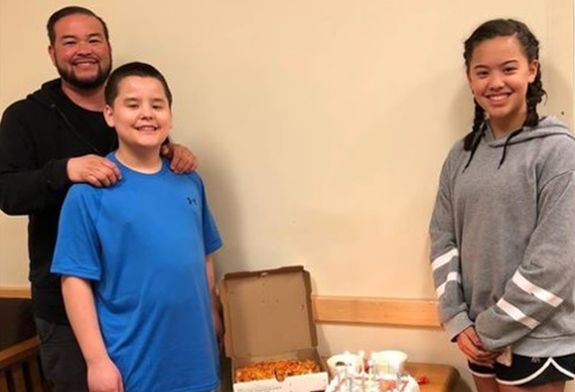 Jon Gosselin spent Thursday celebrating with at least a few of his sextuplets, who just turned 14.
The former reality star posted photos of himself with his daughter Hannah, as well as with his son, Collin, who Kate Plus 8 viewers rarely, if ever, see, due to Collin living away from his family at a special needs facility.
"Glad I could celebrate my son Collin's 14th birthday with him and his sister!" Jon captioned the photo.
Longtime fans of the show wrote in the photo's comment section that they were pleased to finally see Collin.
"I am SO glad you posted this Jon," one person wrote. "I think I can speak for us all when we say we have been seriously wondering about him and how he is. He looks happy and boy, has he grown up. He looks like you. Awe, thank you for posting. Hope he is doing well. Happy birthday to all of them."
"Happy Birthday Collin & Hannah! No matter what problem parents have kids need their dad as much as their mom. So happy for you Jon to be able to enjoy time with two of your kids," another fan wrote.
It appears that Jon has come a long way in his relationship with Collin. Back in 2016, Jon told Entertainment Tonight that his ex-wife, Kate Gosselin, wouldn't even tell him which facility she had placed Collin in.
"I have an idea where he is but I don't really know where he is," Jon said at the time. "I mean, I ask but [Kate] doesn't tell me. She doesn't answer any of my texts.
"He's the smartest [of the kids]," Jon said of Collin during the 2016 interview. "He's very particular, which could be bothersome. But he's very loving too."
Kate has stated that Collin lives at a facility that has a program to help with his behavioral issues.
"Collin has special needs," Kate said in a 2016 interview. "[There's] a fairly fluid diagnosis of what those needs are, but he needs to learn certain strategies to help him deal with things. This has been a struggle we've had for a very long time, and it's one I've dealt with on my own. I've felt very alone in this. By the same token, it's not something that has only impacted me or him — our entire family has been impacted."
Jon and Kate have both said that only some of their eight kids (which includes sextuplets Hannah, Collin, Alexis, Aaden, Leah and Joel, as well as 17-year-old twins Mady and Cara), choose to visit with Jon.
"If the kids want to come, they come," he said at the time. "I love them all, but I am going to focus on the ones that want to come. My hands are tied."
In 2017, Jon asked fans to donate money to help him fight for custody of his children. His GoFundMe campaign raised about $3,300.
Kate, who will soon star on her new, cringeworthy dating show Kate Plus Date, also recognized the sextuplets' birthdays via an Instagram post. (She did not, however, indicate if she spent time with Collin for his birthday.)
"Happy 14th birthday, my 'babies,'" Kate wrote. "14 years ago almost to the minute I was in my wheelchair, making my way around the entire NICU, meeting each of you face to face for the very first time. I'll never forget how tiny yet perfect each of you were. Alexis' blonde hair, Aaden's teeny tiny face, with alert awake eyes that didn't miss a thing, Hannah and her adorable 'human doll' face, Collin looked SO big and strong at 3 entire pounds (the biggest!) Leah had the most beautiful head of dark soft hair and Joel–literally just slept peacefully like he was at the beach in the sun!"
"I'll never forget our first 'birth day' together," the photo caption continued. "This day remains one of the best in my life…and 14 years later, I love you 400 times as much, if that's even possible. Happy birthday, my babies! Here's to many more birthdays together! I love you forever and always, no matter what!"