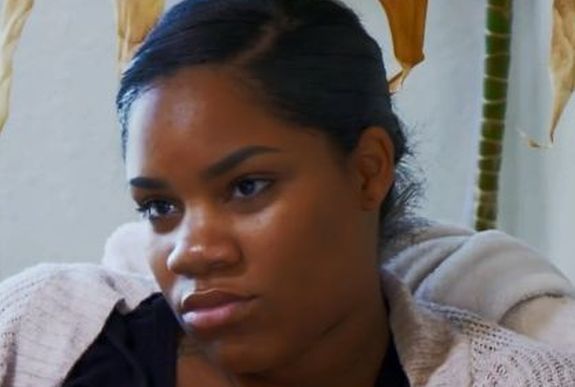 Teen Mom: Young & Pregnant star Ashley Jones has only been on TV one season, but she's already slamming MTV and the show's production team like one of the seasoned pros from the other 'Teen Mom' shows!
Ashley used a post on the official 'Teen Mom' Instagram page to blast the shows and its creators, stating that she regrets appearing on 'Young & Pregnant.'
"I love how the other girls are all smiling and happy and you choose to post none of those happy moments for me," Ashley wrote in a comment directed toward the show's social media team (after cussing them out, naturally). "The whole season I was edited to look like a monster. Joining this show was by far the worst decision of my life."
Like so many of the great MTV-slammers who have come before her (Jenelle Evans, Farrah Abraham and Adam Lind, to name just a few), Ashley claimed that she came across bad on the show due to its editing.
"All those hours of filming and all the positivity I spread and y'all didn't show any of it," Ashley continued in her rant, which was posted in the photo's comment section. "No trust for the producers or anyone else that works on the show and knows the kind of person that I am but says nothing to editing."
She also told one follower that she "signed my f**king life away" to be on the show.
While some of the show's fans rallied around Ashley, her comments were mostly met with backlash from viewers who told her that, because the franchise has been on the air for years, she should have had an idea of how things would be once she appeared on a 'Teen Mom' show.
"If you would have checked out all the other ['Teen Mom] social media accounts beforehand you would have known how to act appropiately when the cameras were around so they don't make you look like a trashy monster," one person wrote.
Ashley also insinuated that the fights she got into with her boyfriend, Bar Smith, were made-for-TV.
"If you want to see how me and Bar really are, on a daily basis without these edited ass scripted fights join my YouTube channel," she wrote.
She then added that she felt her race had something to do with the way she was edited.
"It's funny how the black girl is always made to look mad and ignorant," she wrote.
Fans blasted Ashley for not taking responsibility for her own actions, both on- and off-camera.
"YOU made yourself look mad and ignorant," one person wrote in response to her race comment. "Has nothing to do with you being black! [Fellow cast member] Kayla [Sessler] is as ignorant as you are and she's white as snow! Don't get it twisted sister!"
"Excuse me, have you seen, Jenelle, Amber, Farrah, & Kail? There's enough crazy to go around in every color," another person wrote. "Quit looking for problems that aren't there."
While a lot of the show's fans bashed Ashley for her comments, one person seemed to agree with what she was saying. Her boyfriend Bar posted a comment, showing three hand-clapping emojis.
Ashley's starring role on 'Young & Pregnant' may not have made her happy, but it's certainly made her a lot of money. As The Ashley previously told you, Ashley is one of the first girls from the spin-off show to dip her feet into the lucrative world of Instagram advertising. She recently signed deals with multiple companies to hawk their products on Instagram for cash.
The 'Teen Mom: Young & Pregnant' Reunion airs Monday on MTV. Watch a sneak of the Reunion below!
RELATED LINK: Kayla Jackson Says Appearing on "16 and Pregnant" Was the Worst Decision She Ever Made
(Photos: MTV, Instagram)