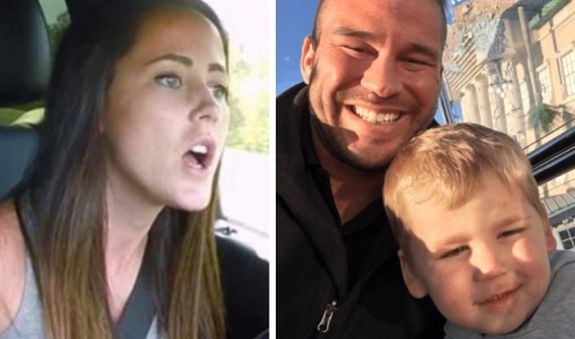 Nathan Griffith is finally making a move to get custody of his son Kaiser.
The Ashley can exclusively report that the Teen Mom 2 dad filed paperwork last Tuesday to modify the custody arrangement he currently has with his son's mom, Jenelle Evans.
In the court documents, which have been obtained by The Ashley, Nathan requests full custody of Kaiser, and demands that Jenelle's husband David Eason stay away from the boy!
In the relief custody paperwork, Nathan claims that a "substantial change has occurred" in regard to Kaiser that has and will continue to have "a detrimental effect on the minor child unless the custody order is modified."
Nathan alleges that David is a "violent person who is a danger to [Kaiser]."
Had some crazy fun with this little guy this weekend!!! #TeamGriffith pic.twitter.com/mERljobhoJ

— Nathan J. Griffith (@GroundLevelUp) April 22, 2018
He also states that both Jenelle and David "have drug dependency and substance abuse issues" and mentions the fact that Jenelle and David's daughter Ensley was born with THC in her system.
"[Jenelle] has been to rehab two to three times but upon information and belief has never completed the prescribed treatment," the paperwork reads.
In his paperwork, Nathan is requesting "primary care, custody and control of [Kaiser]" and visitation for Jenelle.
Nathan states that he now has a "suitable home" for Kaiser to live in that is "conductive to the health, well-being and development of [Kaiser]."
"The Defendant is a fit and proper person to have primary care, custody and control of his minor child, and that it is in the child's best interest that custody be modified as such," the paperwork states.
That face!!!! ❤❤❤ pic.twitter.com/cOtqmCqlnH

— Nathan J. Griffith (@GroundLevelUp) April 22, 2018
In addition, Nathan asks that the court not allow David around Kaiser.
"[The Defendant] asks that [Jenelle] be awarded secondary custody in the form of visitation, and that [Jenelle's] spouse be prohibited from having contact with [Kaiser]."
As The Ashley previously reported, Nathan's mother, Doris Davidson has attempted to get emergency custody of Kaiser on several occasions, but has not been successful.
She is named on the current court paperwork as the "Intervenor."
Earlier this month, a stand-off between Doris and Jenelle ended with Jenelle calling "The Law" to come fetch Kaiser from Doris, who refused to return him after allegedly finding bruising on the boy.
Nathan recently told TMZ that the recent episode of 'Teen Mom 2' that showed Jenelle pulling a gun on a man after a road rage incident may help him secure custody of Kaiser.
"I think this helps me in my situation of getting custody of Kaiser because it shows an unstable environment and a very hectic situation instead of being calm and escalating where it could be potentially more hazardous," Nathan told TMZ.
The Ashley hears that a court date is planned for next Tuesday to have Nathan's case heard.
In the paperwork, Nathan states that "other facts will be shown at trial." (We can assume these "facts" are related to Jenelle and David's parenting of Kaiser.)
Stay tuned– The Ashley will have more info on this soon!
**Media Outlets Must Credit The Ashley & Link Back to This Story**
(Photos: MTV, Twitter)