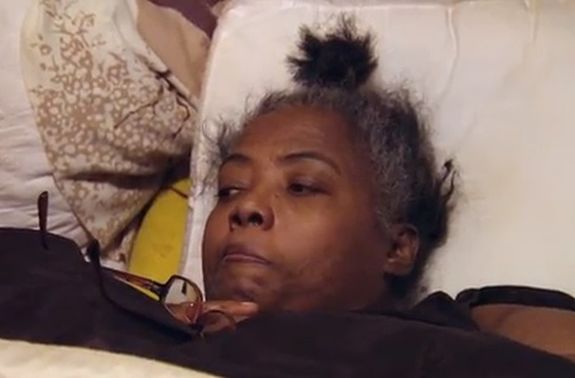 My 600 lb. Life star Lisa Fleming has died at the age of 50.
Lisa, who starred on one of the show's most-memorable episodes last season, reportedly died on Thursday, according to TMZ, from causes unrelated to her weight.
Lisa's daughter Danielle told the site that Lisa had lost 200 pounds since she appeared on the show, and that she was able to stand on her own. However, according to Danielle, Lisa had been dealing with several illnesses for years, which ultimately contributed to her death.
"At the end she was sick and her body was tired and her body just gave out," Danielle told TMZ.
During her episode, Lisa—then over 700 lbs.— revealed that she had been bedridden for years, living in the same bed her mother had died in, due to obesity. During the Season 6 episode– which aired on February 22– Lisa had reached a desperate state after finding maggots in the folds of her skin.
In order for Lisa to leave her house to see the show's weight loss doctor, it took seven paramedics to lift her. Before they could bring Lisa outside, the paramedics had to reinforce the wheelchair ramp outside of Lisa's home in order for it to be able to hold her weight.
Sadly, Lisa is the second person from "My 600 lb. Life" to die this month. On August 2, L.B. Boner— whose incredible post-show transformation was documented on his social media pages– was found dead in a ditch in a South Carolina park. His death was later ruled a suicide.
In addition to Lisa and L.B., there have been two other people from the show who have passed away. Season 1's Henry Foots died in 2013 due to a medical issue not related to his weight. In addition, Robert Buchel died from a heart attack while he was shooting Season 6 in November 2017.
Watch a clip from Lisa's memorable "My 600 lb. Life" episode below.
(Photo: TLC)