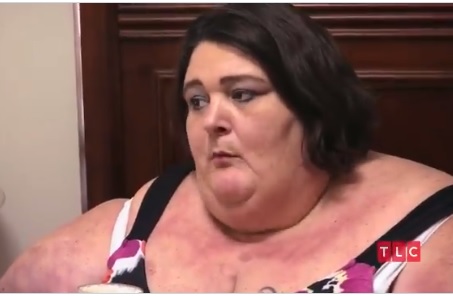 Another participant of TLC's My 600 Lb. Life has passed away.
Coliesa McMillian— whose episode of the show aired in March— is the eighth person featured on the show to die, and the second this year. A Facebook support page run by Coliesa's family reported that Coliesa had died Tuesday night in Louisiana.
She was only 41 years old.
"I can not begin to express into words what our family is beginning to feel," the post read. "…Tonight at 10:23 p.m. she sadly passed away from this life."
Coliesa was 643 lbs. when her episode of "My 600 lb. Life" was filmed. She had suffered a heart attack shortly before filming the episode. Due to her size at the time of the heart attack, she was too big to operate on, so her heart ailment was never repaired.
Sadly, shortly after that, she lost her fiance, Melvin, in a car wreck.
"That devastated me, but I did what I had to do to get through it and that was to eat so I didn't fall apart," Coliesa said during her episode. "Now I spend the majority of my time in my bed."
"Living like this is not living." Tune in to a new #My600lbLife tonight at 8/7c. pic.twitter.com/JTN73ULoqQ

— TLC Network (@TLC) March 18, 2020
According to TMZ, Coliesa opted to have weight loss surgery, but suffered complications. In June, her family posted to her Facebook page that she had been on life support but had made it home."Coliesa kay made it home. After being on life support and almost dying," the post read. "She stayed in Houston for a few weeks. Even though she has been on a long journey she has an even longer journey to go. She is a fighter. She is now confined to a bed 24/7. And is in a lot of pain. She can not do anything like she used to. But she is there. She needs us all to stand together and fight her fight for her."

On August 27, Coliesa herself appeared to post to the page, writing, "I am going to walk before Christmas."

Sadly, that was the final update to the page until the family posted that Coliesa had died.

According to her obituary, Coliesa is survived by her family, which includes her four daughters.
As stated above, Coliesa is the eighth person featured on "My 600 lb. Life" to die after their episode was filmed. In April, Season 5 star James King died at the age of 49. Other participants who have since died include Season 1's Henry Foots in 2013; Rob Buchel of Season 6 in 2017; L.B. Bonner, also of Season 6, of suicide in 2018. Also in 2018, Lisa Fleming of Season 3 passed away. In February 2019, Sean Milliken, who appeared on Season 4, died after suffering complications from an infection at the age of 29. That month also saw the loss of Season 7's Kelly Mason, who died of heart failure during her 'My 600 Lb. Life' episode.
RELATED STORY: Tenth Lawsuit Filed Against 'My 600 Lb. Life' Production Company Megalomedia Claims Producers Falsified a Mental Health Exam Required for Weight Loss Surgery
(Photo: TLC)