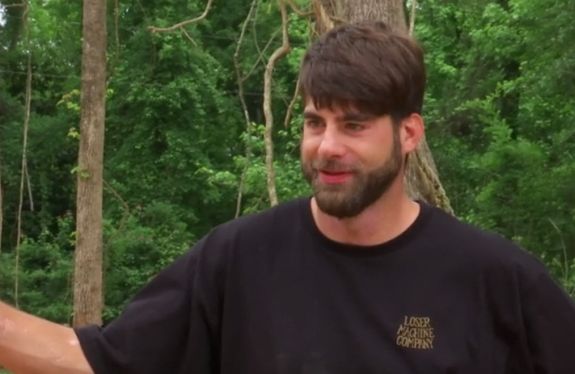 David Eason received a very special Christmas gift from the Wilmington, North Carolina, Police Department: a criminal summons!
The former Teen Mom 2 star was officially charged on December 23 with two misdemeanors, stemming from the video he posted of himself "self-towing" a stranger's truck because David felt the truck's owner had parked too close to David's boat. The video, which was filmed in June but not posted until last week, gave the truck's owner, Terry Hill, enough evidence to file the criminal charges against Mr. Jenelle Evans.
According to the criminal summons, which was obtained by Radar Online, David is facing a charge of injuring or tampering with a vehicle, and a charge of injury to personal property greater than $200.
In the incriminating video, which David posted to his new YouTube account on December 19, David can be seen hooking a winch to Terry's truck that is parked behind his boat. He then uses his own truck to try to pull Terry's truck backward. When his first attempts fail, David declares that he has to "drag it f**king sideways!" Terry's truck starts screeching as it is pulled backward aggressively. Jenelle can be heard cackling behind the camera.
"Pulled that motherf**ker out of the way!" she declares gleefully.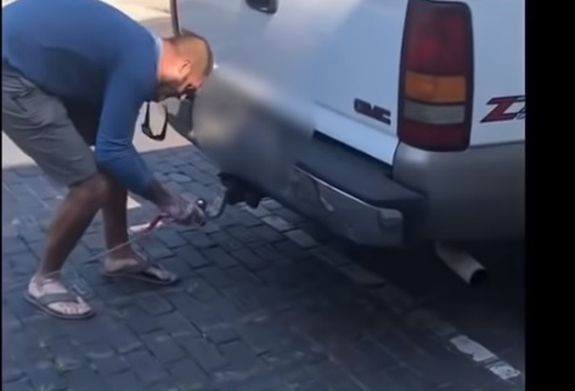 Ben Smart, a reporter for North Carolina news station WECT has been closely following the story since David posted the video to his YouTube channel last week. Ben was able to find Terry, who confirmed that he had to replace his truck's transmission due to what David did. The truck's engine and mirror were also reportedly damaged.
Ben stated that WECT reached out to David for a comment, and David initially tried to lie and say that it was staged and they used his friend's truck in the video as a way to increase subscribers to his YouTube account. However, Ben then told David that he knew this was a lie, given that he had just interviewed Terry, the real owner of the truck, who does not know David and Jenelle.
The Wilmington Police Department launched its own investigation into the incident, but on December 21, the police department stated in a press release that it would not be able to charge David.
"We understand the frustrations of the many people who have reached out to us regarding the David Eason incident, but there is no legal avenue to pursue charges," a message on the Wilmington PD's Twitter account read.
We understand the frustrations of the many people who have reached out to us regarding the David Eason incident, but there is no legal avenue to pursue charges. FULL STATEMENT HERE: pic.twitter.com/dlHCLLaJOR

— Wilmington Police (@WilmingtonPD) December 21, 2018
Terry had originally stated that he would not be filing charges against David for what he did. However he had a change of heart a few days later and filed charges with New Hanover County.
"Somebody has to stop this guy," Terry, who is 73 years old, told WECT in an exclusive interview.
UPDATE: video from today as Terry Hill filed charges against David Eason of Teen Mom 2 @wectnews @WilmingtonPD pic.twitter.com/7ZrhBad9Pf

— Ben Smart (@BenSmartWECT) December 21, 2018
As expected, Jenelle lashed out at Terry, WECT and the reporter, Ben Smart. In a post to Instagram stories on December 23, Jenelle told her version of events, and complained that WECT needs to hire someone who "knows the rules of journalism." (Um…?)
"[Ben] begged David to write a story on him and come visit our home," Jenelle wrote on Instagram stories over the weekend. "David said 'no sorry bro out of town.' David explained his side of the story and said OFF RECORD. OFF RECORD means as a journalist you cannot include those words in your article or story. Contacting our lawyer about Ben Smart today for harassment."
She also stated that Ben was responsible for convincing Terry to press charges against David, simply so Ben would have a story to report on.
David received a criminal summons on December 23, ordering him to appear in court on January 28 to face the charges against him. According to Ben's story for WECT News, both charges against David are Class 2 misdemeanors.
"Under North Carolina law, a Class 2 misdemeanor carries a maximum penalty of 60 days in jail and a $1,000 fine," the story states.
According to the criminal summons, if David does not appear in court on his court date, an order for his arrest may be issued and he may be held in contempt of court.
Jenelle and David have been uncharacteristically silent about the criminal summons.
Click here to see the criminal summons sent to David!
RELATED STORY: Jenelle Evans Blasts News Reporter for "Harassing" Her Family Over David Eason's "Self-Towing" Incident 
(Photos: MTV, Twitter)