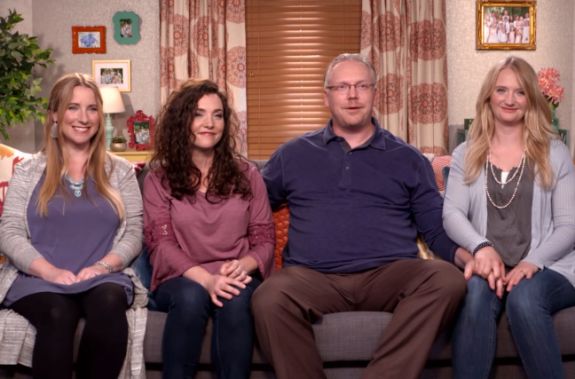 TLC's Seeking Sister Wife returned to the air on Sunday night…but one of the show's original families— the Brineys— was noticeably missing from the episode.
Fans who watched Drew Briney and his wives April, Auralee and Angela search for a new wife to join their family last season were wondering why the Brineys were not on the Season 2 premiere. In a blog post to their family website, the Briney explained their absence, and revealed a major change in their family.
"Originally we were going to be but TLC pulled us at the last minute— literally a month before the season premiere," the blog post reads.
"We filmed the whole season, but no one could have guessed the traumatic experience our family would have and try to recover from while filming Season 2. So besides the network feeling bound by HIPPA laws, our story was simply too heavy, with too much controversy, and we don't blame them," the family wrote.
They explained what "traumatic experience" led to the break-up of their family.
"Without getting into too many details here, simply put, April left our family and took Drew's and her children out of state (back to Utah) under the pretext of taking them for a local hike not far from our Oregon home. She never came back. Nor would she accept any communication for the first month or so," the blog post read. "This happened the first week of filming (on film, actually). The grief and heartache those of us left behind have been experiencing has been excruciating."
According to the blog post, April bolted from the family on May 26, after the birthday party celebrating Briney family kids Lenny and Laurelei.
"It would be many months before we could even have open communication with any of the children and seven months before we would even get to see them," the blog post reads. "We didn't see the kids she took until December 21."
The family blamed this event for TLC not wanting to film with them anymore.
"Heavy stuff, right? So we were dealing with our outrage and grief during the whole season of filming," the family wrote. "We were left in the dark as to what her plans were and had many questions in our minds. To be filmed during this time was very hard on the one hand and very therapeutic on the other.
"The network had a very unique opportunity to tell a story that's never been told before- that of the family left behind when a plural wife leaves. But again, we agree that this heavy of a story was not a good fit for this platform. The story of those who leave has been told many times, but we often don't consider how the remaining family deals with that grief and how they try to move on in life.
"In any case, at the end of the day our story was a far cry from the intention of the show."
View this post on Instagram
As "Seeking Sister Wife" may remember, April was Drew's only legal wife. (His other wives are "spiritual wives.") This means that April will have to legally divorce Drew.
On her personal Facebook page, however, April still lists herself as "married."
In their blog post, the remaining Briney adults accused April of bad-mouthing them.
"We have heard through mutual friends and acquaintances some of the accusations that April is making, which are not only false, but sad to hear," they wrote. "The lifestyle and family she defended so fervently in the past of her own free will and choice, she now claims victim of. We'll leave it at that."
The family got in a final jab at April's mental state before ending the blog post.
"Though she clearly has caused so much pain for our family, we wish her the best and are hopeful she will find the healing she needs. We know that the mentally stable April would not have done the things she's done."
The family gave fans an update on their lives, revealing that that they decided to leave Portland and move to Southern Oregon for a fresh start. The family seems to be open to other TV projects in the future, though.
"Perhaps we'll be able to tell our story another way," they wrote. "Stay posted and keep in touch."
The Briney-less new season of 'Seeking Sister Wife' airs Sundays on TLC.