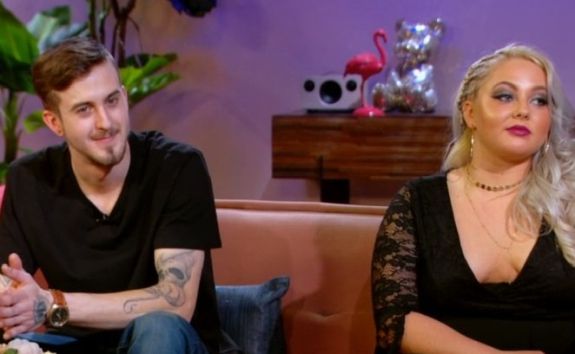 Another Teen Mom relationship bites the dust!
Teen Mom: Young & Pregnant star Jade Cline revealed Tuesday that she is no longer in a relationship with Sean Austin, her longtime boyfriend and the father of her daughter Khloie. During an Instagram Q&A session Jade— who is currently filming 'Young & Pregnant' Season 2— announced the breakup.
She told a fan that she is "definitely not" still with Sean.
The couple has broken up numerous times in the past, but Jade seems to think that this split is for good. When asked if she would consider giving him another chance, Jade wrote, "Lol noooo."
While Jade didn't go into specifics about what happened between her and Sean, but she hinted that Sean was being shady.
"People are not what they seem sometimes," she wrote on Instagram.
On Twitter, Jade confirmed that she's "been single" but she didn't feel the need to run to social media and share the news of her split (unlike other 'Teen Mom' franchise stars…)
"I don't tell the world every little detail of my life," Jade tweeted. "S**t happens and I keep it to myself and keep it moving. Don't feel the need to constantly put my business online."
Whatever went down between Jade and Sean must have happened recently, because, just last month, Jade was talking about wanting to have another child with Sean.
"I'm not pregnant," she wrote on her Instagram story in January. "Me and Sean have just discussed having a second child because he really wants a son and wants our kids close in age."
On February 10, Sean boasted about Jade and his daughter on Instagram.
"@jadecline_ has made me THE most proud Dad," he wrote in the photo caption of a picture of their daughter. "Kloie is the most intelligent little girl, she surprises me everyday with how much she is learning."
We can assume that we'll see the breakup play out on the upcoming second season of 'Teen Mom: Young & Pregnant,' which will air later this year.
RELATED STORY: EXCLUSIVE! Lexi Tatman Cut From 'Teen Mom: Young & Pregnant'; Replaced By New Girl For Season 2
(Photos: MTV, Instagram)