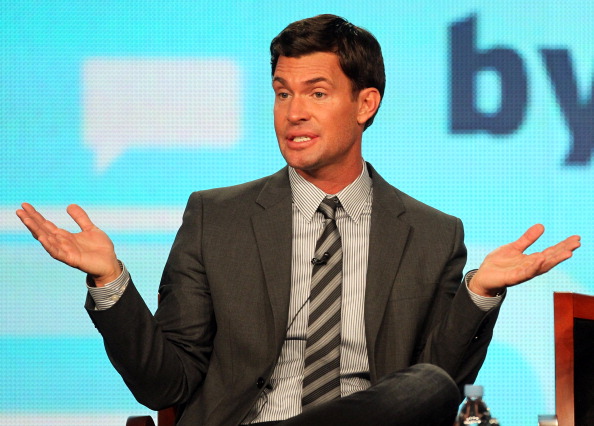 If listeners of Jeff Lewis' SiriusXM radio show Jeff Lewis Live had any doubt about the size of Jeff's ego, his show on Thursday certainly made it quite clear how highly Jeff thinks of himself.
Jeff— who split with his longtime partner (and baby daddy) Gage Edward in January– told his listeners that he feels another guy will snap him up and marry him within six months. He also stated that he felt Gage– who is now in a relationship with a man whom Jeff has called a "homewrecker"— will eventually try to reconcile.
"This is my prediction. Like every other boyfriend I've ever had, my prediction is in six months, [Gage's] relationship will implode — or sooner — he'll realize that the fantasy relationship isn't what he thought it would be, and he'll come back crying," Jeff said.
Of course, Jeff does not expect that he will still be single by then.
"When he does [try to get back with me], I will have already been, not only moved on — I'll probably be remarried by then," Jeff said.
Jeff and Gage were never legally married; however they were in a relationship for over 10 years.
Gage has remained relatively quiet about his split from Jeff and his new man. (Jeff stated earlier in the radio show that Gage's new man is younger than he is.)
Jeff's split with Gage has become a frequent topic on Jeff's radio show. He has talked extensively about what went wrong in their 10-year relationship, and about Gage's new boyfriend.
"I think [the new guy] has been in [Gage's] ear for quite some long time," Jeff said during a February episode of the show. "I think homewrecker has exploited quite a vulnerable situation. I think this person positioned himself as a gym buddy friend, and I think this person has set his sights on him for quite some time… I don't think [Gage is] thinking clearly, and I do not like this guy."
Earlier this month, Jeff stated that Gage had threatened to contact his attorney in order to get Jeff to stop making negative comments about him on his radio show. Jeff claimed that Gage had texted him that he feels what Jeff says about him on the show is "harassment" and "malicious," and that it continues to "show you have a full intent to destroy my character."
Jeff and Gage share two-year-old daughter Monroe, whom Jeff recently stated he takes care of the majority of the time. Jeff read on-air a series of texts sent between him and Gage regarding the care of their daughter.
View this post on Instagram
"You left your family," Jeff said he texted to Gage recently. "And now I'm here raising this child aside from the f**king 10 hours a week you spend with her. I am 100 percent raising this child…I am also working my ass off to completely pay every single expense associated with Monroe…And then you're also taking your homewrecking trick to $400 dinners at Mastro's, while I'm paying for diapers, water wipes, baby lotion, groceries, dance classes, nannies…"
Jeff has stated that he, too, is dating someone new, but has kept the man's name and details off his show…for now.
RELATED STORY: 'Flipping Out' Star Jeff Lewis Splits with Gage Edward: Claims Gage Has "Broken Up Our Family"
(Photo: Frederick M. Brown/Getty Images; Instagram)