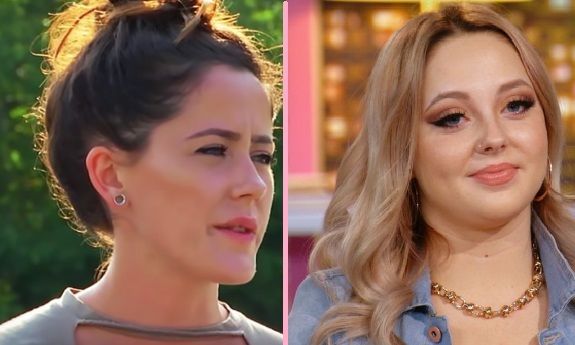 Jenelle Evans was fired from Teen Mom 2 today, and she can let go of any hope that MTV will hire her back, as The Ashley has learned that the network already has a girl in line to take Jenelle's coveted spot, and has for a little while.
The Ashley can exclusively confirm that Jade Cline from Teen Mom: Young and Pregnant will be taking over for Jenelle.
"The network plans to move Jade from 'Young and Pregnant' and she will be the fifth girl on 'Teen Mom 2," a behind-the-scenes source told The Ashley. "Jade has been filming for 'Teen Mom 2' and the other 'Young and Pregnant' girls aren't currently filming."
"The other girls' crews have known for several weeks, even the ones who are not on the Jade shoots because everyone talks and some work on multiple girls' shoots," the source added.
The Ashley hears that Jade was being filmed as a "just in case," as the producers were not sure when they started filming her what would be happening with Jenelle.
"The other ['Teen Mom 2'] girls started filming around when Jade did," the source said. "They figured if Jenelle wasn't let go, they could move the Jade footage over and use it on 'Young and Pregnant.'"
As for Jenelle, MTV made it clear in statement released today that she has not been filmed since early April, and will not appear on the upcoming Season 9B.
"MTV ended its relationship with David Eason over a year ago in February 2018 and has not filmed any new episodes of Teen Mom 2 with him since," an MTV spokesperson exclusively told Us Weekly in a statement on Tuesday. "Additionally, we have stopped filming with Jenelle Eason as of April 6, 2019 and have no plans to cover her story in the upcoming season."
Stay tuned…The Ashley will update this story when she has more info.
RELATED STORY: Jenelle Evans Has Been Officially FIRED From 'Teen Mom 2!' Here's How it Happened (Exclusive Details!)