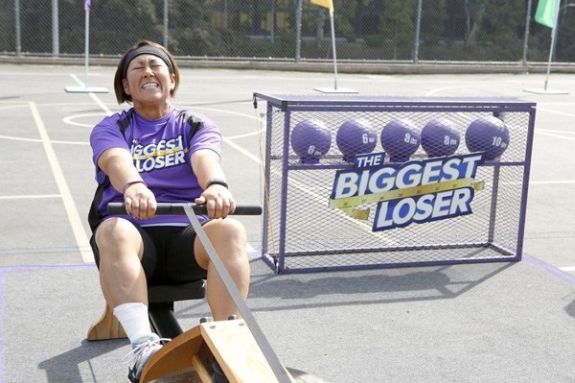 The Biggest Loser is being rebooted by USA Network after four years off the air– and the new network hopes to make the show bigger (pun intended) and better than ever before!
News of the show's comeback was announced Monday at the NBC Universal Upfront Presentation, with the network's execs stating that the new-and-improved 'Biggest Loser' will hit the air in 2020. (The original version of the show ran on NBC for 17 seasons. USA Network is under the NBC Universal network umbrella.)
While the original show focused solely on overweight people trying to shed the most pounds (sometimes at any cost necessary), the revamped 'Biggest Loser' will attempt to improve contestants' whole body wellness.
"We're re-imagining 'The Biggest Loser' for today's audiences, providing a new holistic, 360-degree look at wellness while retaining the franchise's competition format and legendary jaw-dropping moments," USA Network's President of Entertainment Networks Chris McCumber said in a statement.
Deadline reports that the new version of the show will "feature men and women competing not only to lose weight but to improve their overall well-being."
"Each episode will feature a TBA team of experts including a trainer, chef and life coach who will help guide the contestants as they embark on the biggest transformations of their lives," the site reports.
'The Biggest Loser' went off the air in 2016, after the show was hit with a series of controversies. In 2013, the Season 15 winner, Rachel Frederickson, had lost so much weight by the season finale, viewers and critics became concerned (and outspoken) that she had reached an unhealthy weight.
In 2016, an extensive piece done by The New York Times stated that researchers had found that the contestants' participation on the show may have caused medical issues that make it very hard for them to keep the weight off. A large sampling of former contestants eventually came forward– even the brand's golden girl and first female 'Loser' champ Ali Vincent— to reveal they had gained back all the weight they'd lost on the show.
Some stated that they felt the show was downright dangerous.
"The whole f**king show is a fat-shaming disaster that I'm embarrassed to have participated in," Season 3 contestant Kai Hibbard said in an interview at the time.
After those controversies, NBC did not announce a new season of the show, but its execs would not reveal whether or not the show was "officially" cancelled.
"At the moment [the show] is kind of at rest," NBC Chairman Robert Greenblatt told reporters during a TCA panel discussion in August 2016.
It is not yet known whether any of the show's original trainers– such as Bob Harper, Jillian Michaels or Dolvett Quince– will return for the new version of the show.
(Photos: NBC; Instagram)