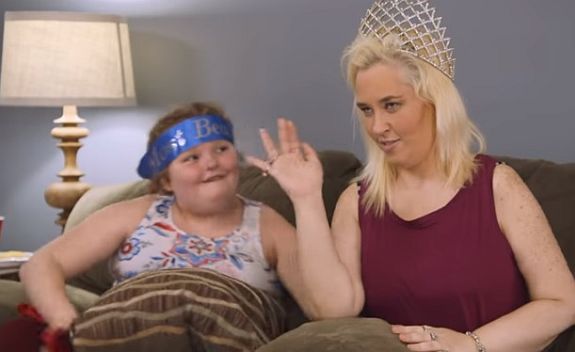 Mama June Shannon is back at home after briefly residing in an Alabama casino, but unless some things change (one big thing in particular) her youngest daughter Alana "Honey Boo Boo" Thompson won't be joining her anytime soon.
According to TMZ, Alana refuses to move back in with June until June kicks her boyfriend Geno Doak to the curb, and gets herself into rehab. In the meantime, Alana continues to live with and be cared for by her older sister Pumpkin Shannon, as The Ashley previously told you. On Monday, Alana showed her appreciation to her sister and brother-in-law in an Instagram post.
In other disturbing Mama June news, earlier this week, TMZ posted a video that showed Geno driving his car into June's home, inebriated to the point where he could barely walk. Geno reportedly collapsed on the ground shortly after and had to be dragged inside of the house by June (who was wearing a purple see-through nightie…as you do) and a neighbor.
You can watch that trainwreck video below. (While the commentator in the video is funny as hell, she does say some naughty words, so be forewarned!)
This latest display of instability comes just months after Geno and June were arrested for crack cocaine following a domestic dispute at a gas station.
On the latest season of Mama June: From Not to Hot, viewers watched as June's family held an emotional intervention in an effort to get June the help she needs, with Alana revealing during the intervention that she was scared of June in her current state.
TMZ reports that if June's situation doesn't change, Pumpkin plans to take legal action to gain custody of her little sister, as she currently only has temporary custody. According to the site, a source claims that June has yet to express interest in getting Alana back.
RELATED STORY: 'Mama June: From Not to Hot' Season 3 Episode 11 Recap: Red Flags & the Road to Intervention
(Photos: WEtv, TMZ, Instagram)