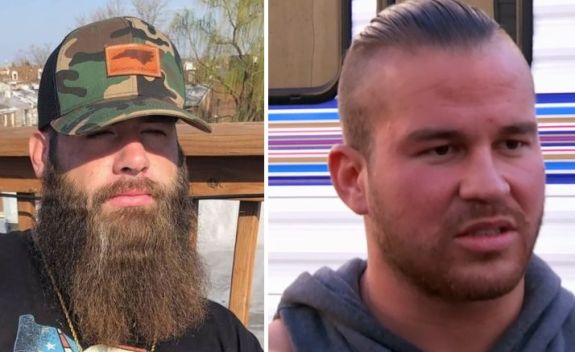 David Eason wasn't happy about his day in court on Tuesday, so he took to social media to express his feelings— and threaten Nathan Griffith!
The husband of former Teen Mom 2 star Jenelle Evans blasted Nathan on his Snapchat on Wednesday, threatening to tell secrets about Nathan and his family seemingly in retaliation for talking about David and Jenelle in court.
"Since Nathan wants to tell all the court details but only from his narcissistic point of view, I guess I will spill the beans on his horrific past with his family…on top of other things…" David wrote.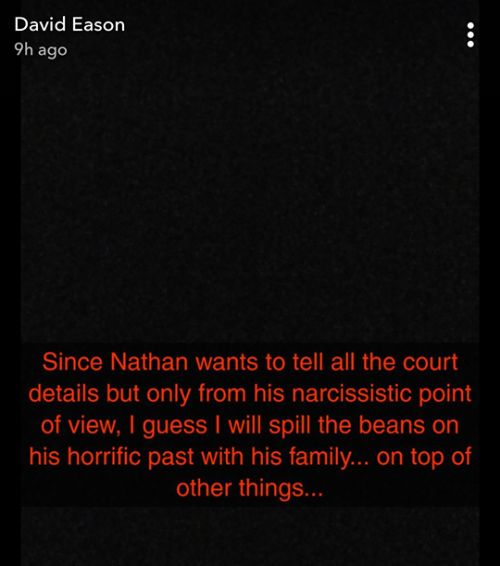 He did not explain what "court details" Nathan supposedly discussed, or where. (The Ashley was unable to find any new interviews given by Nathan either in the media or on video from Tuesday). He was, however, in the court room during Tuesday's hearing, as were the other caretakers of David and Jenelle's children: Barbara Evans (who has their daughter Ensley and Jenelle's son Jace), and the maternal grandmother of his daughter Maryssa.
(From what The Ashley heard, though, none of the caretakers took the stand on Tuesday.)
David also confronted Maryssa's grandmother after Tuesday's hearing. On a video posted by Radar Online, David can be heard scolding Maryssa's grandma as Maryssa walks quickly away from David.
"Hey, I texted you about an important thing," David tells the grandma, who replies, "Today?"
"No, yesterday," David said, adding, "You might wanna think about that!"
This is not the first time David has approached Nathan after court. Earlier this month, David was captured on film shouting at Nathan from a car window as he and Jenelle drove by. During that confrontation, David was upset that Nathan was talking with a cameraman.
So far, David has not indicated what he plans to "spill the beans" on in regard to Nathan, and Nathan has not responded publicly to David's threat.
Stay tuned…
RELATED STORY: EXCLUSIVE! Here's What Happened Tuesday at the Custody Court Hearing of Jenelle Evans & David Eason
(Photos: MTV, Instagram, Snapchat)