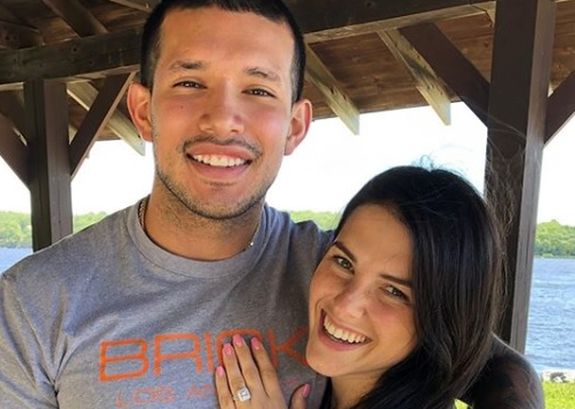 Javi Marroquin seems to be getting another shot at love with his (former?) fiance Lauren Comeau, just weeks after she left their shared home after catching the Teen Mom 2 star cheating on her in their home!
The Ashley can exclusively reveal that Lauren returned home to Delaware some time over the Labor Day weekend, as did Eli, the son Lauren shares with Javi. As The Ashley previously reported, Lauren fled the house (and Delaware!) after catching Javi cheating with a friend. (Lauren had been home at the time but was upstairs asleep. She caught them when she went downstairs and came upon Javi's very, um, "Shaggy 'Wasn't Me!'" moment.)
Since the cheating scandal, Lauren and Eli had staying with her family in Maine (where she's from). Javi was in Maine last week, so we can assume he was there to visit Eli (and possibly Lauren).
Lauren has yet to speak out about what happened. However, on Tuesday, Lauren posted a video of her with Eli to Instagram, along with the caption, "Laughter is the best medicine."
View this post on Instagram
Javi, on the other hand, has spoken out. Last week, he posted a long apology message to Lauren and his sons, promising them that he would be a better man, and asking that Lauren forgive him someday.
The Ashley has reached out to her production sources, who all tell her Javi and Lauren are still not filming any of this drama for the upcoming season of 'Teen Mom 2.'
However, a local tipster tells The Ashley that Lauren was seen at Javi's son Lincoln's school on Tuesday, helping Javi and his ex Kail Lowry send Lincoln off for his first day of school.
"Lauren was there and clearly with Javi," the person, whose child attends the school with Lincoln, told The Ashley.
Javi has yet to comment on the current status of his engagement to Lauren.
RELATED STORY: 'Teen Mom 2' Dad Javi Marroquin Posts Apology Note to Fiance Lauren Comeau & Sons After Cheating Scandal is Exposed
(Photos: Instagram)