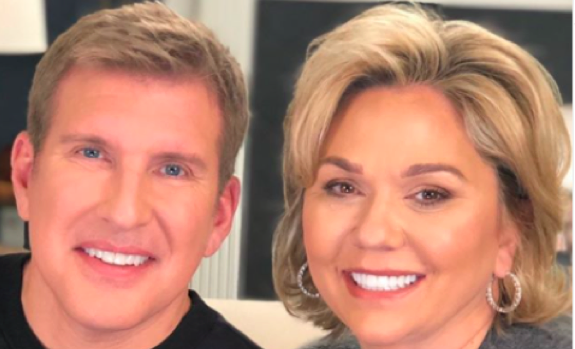 Todd and Julie Chrisley have reached a settlement regarding their tax-evasion charges in the state of Georgia; however, the Chrisley Knows Best couple is still facing federal counts.
According to NBC News, Todd and Julie have agreed to pay $147,944.75 in order to settle their case with the Georgia Department of Revenue. The Chrisleys also received a more than $66,000 refund for the tax years from 2013 to 2016, according to WXIA of Atlanta.
Despite this bit of good news for Todd and Julie, the couple is still facing the 12-count indictment reached by a federal jury in August related to charges of conspiracy, bank fraud, wire fraud and tax evasion. In the case, Todd and Julie are accused of conspiring to defraud "numerous banks" by allegedly giving the institutions false personal financial statements and information while obtaining millions of dollars in loans.
The couple has maintained their innocence since the news first broke in August.
Following the news of their settlement with the state of Georgia, Todd shared a screenshot of the document declaring that he and Julie had been cleared of "massive tax evasion charge." Todd went on to call the incident a "storm of lies, fraudulent misrepresentations and betrayal regarding the false claims" that the family has been dealing with since March 2017.
" … This settlement and what we've been put through by the [Georgia] Dept. of Revenue should be a wake up call to all taxpayers in the state of Georgia, these folks have the authority to raid your homes, businesses, confront you in public and harass your friends and family and do it with confidence because they have no accountability unless you spend hundreds of thousands of dollars to prove your innocence," Todd continued.
A statement from the Chrisleys' representatives claimed that while Todd and Julie were accused of evading nearly $2 million in taxes between 2008 and 2016, the couple had actually overpaid during that time—a claim backed by the refund the couple was given.
"Julie and I knew all along that we had done nothing wrong and that when the facts all came out, we would be fine," Todd said. "We're just glad that the department of Revenue was willing to keep an open mind and look at all the evidence."
Along with Todd and Julie, the Chrisley family accountant Peter Tarantino was also charged in federal court, according to NBC News, though all have pleaded not guilty.
Todd's estranged daughter Lindsie has remained relatively silent on the matter, except during an Instagram Stories Q&A session on Tuesday night. When a fan asked her how she felt about Todd and Julie getting "cleared," Lindsie simply responded "Cleared of what?"
RELATED STORY: Savannah & Chase Chrisley Allegedly Made to Testify Before Grand Jury Against Their Parents Todd & Julie; FBI Looking Into Sex Tap Extortion Accusations Against Todd & Chase
(Photos: Instagram)