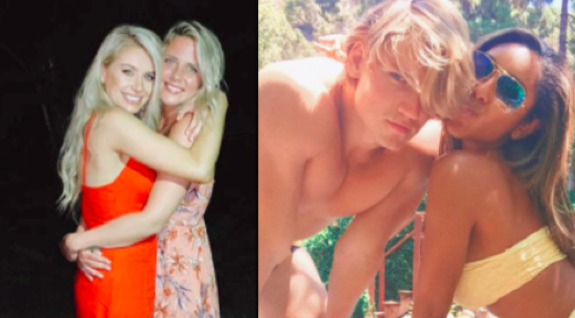 The success rate for couples of Bachelor Nation dropped a little this week.
According to E! News, Tayshia Adams and John Paul Jones, who began dating on Season 6 of Bachelor in Paradise, announced their breakup on Wednesday. The following day, fellow Season 6 couple Demi Burnett and Kristian Haggerty announced that they, too, had split.
Tayshia broke the news to her followers on social media, explaining that the long distance relationship had been a factor in she and John deciding to go their separate ways.
"The reality was, we were living on opposite coasts, and working insane schedules that made it impossible to see each other and build a life with each other," she wrote. "We truly did the best we could, but at this time have decided that what is best for the both of us is to go our separate ways. We are the best of friends and will continue to remain in each other's life because regardless of the situation, we make each other happy."
https://www.instagram.com/p/B4QOpXAls0B/?utm_source=ig_web_copy_link
While Tayshia blamed the breakup on distance, a source told E! News that there were other factors that contributed to them parting ways.
"They definitely really liked each other but Tayshia is older than JPJ and in the long term needs somebody a little more mature," the source claimed. "She is just more realistic about it and they still had a lot of getting to know each other to do after the show."
Tayshia insisted on social media that the pair made an effort after 'Bachelor in Paradise' wrapped, despite the source claiming that the couple "weren't ever going to move in together."
https://www.instagram.com/p/B3VDISSBd5p/?utm_source=ig_web_copy_link
"We fell for each other in Paradise and everything was a whirlwind after that," Tayshia shared on Instagram. "When the show ended, I truly went back to Maryland to see if what we had was something we could build on without cameras, a production crew and without feeling any pressure: to simply figure things out on our own terms."
As for Demi and Kristian, their breakup came as an even bigger surprise to Bachelor Nation, given that the two had gotten engaged on the show.
The couple, who broke barriers as the first same-sex couple of the Bachelor franchise, announced their split on Thursday in a joint statement posted to Instagram. In the post, the two revealed they "want what's best" for them in the long run and "right now, that means being apart and growing individually."
"We have felt so much love and support from you all as you've followed our journey together and for that we are grateful," the statement continued. "We will forever be proud of the impact our love story has made and we hope it has helped others feel more accepted and confident within themselves. We hope it reminded others they aren't alone and don't need to be ashamed of who they are. And we hope it shows that two people can love one another in different ways and for us right now that is apart. But we remain committed to encouraging each other, supporting each other and continuing forward in a way best for us."
Prior to the post announcing their split, Demi and Kristian had not shared a photo of the two of them together since September. A source told E! News that the couple had been trying to make things work for the last month and while they were supposed to move in together in Los Angeles, it never happened.
"They really haven't spent much time together in the same place since getting back from 'Paradise,' and it made them rethink the whole situation," the source said. "They grew apart, and once they came down from the post-vacation high, they realized they were rushing their relationship. They still love each other but felt it was best to call off the engagement for now."
RELATED STORY: Instagram "Influencer" Fail? 'Bachelor in Paradise' Star Amanda Stanton Sued for Nearly $5000 Over Chanel Bag Shop Says She Failed to Promote on Social Media
(Photos: Instagram)