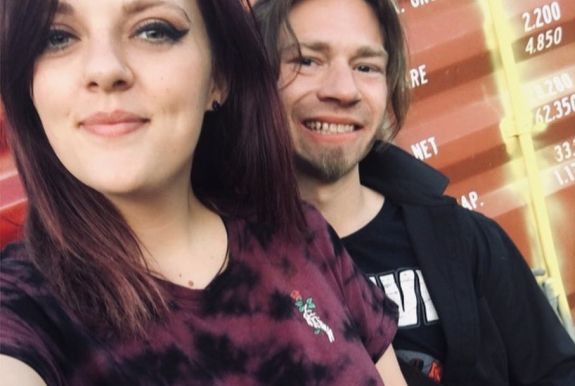 A month after announcing that they were giving their love another try, Alaskan Bush People star Bear Brown and Raiven Adams have split…again.
The couple— who are currently expecting a baby together following a whirlwind relationship, engagement, pregnancy, breakup and reconciliation— were not able to make their relationship work during their second go at it, according to a new post on Instagram by Raiven.
In a post to Instagram Stories on her private Instagram account, Raiven explained that the breakup occurred during the couple's recent social media hiatus.
"Me and Bear split up when we took a social media break," she wrote on Friday. "We just wanted to get on good terms without all the input. We are still doing well, and still [excited] to be parents!"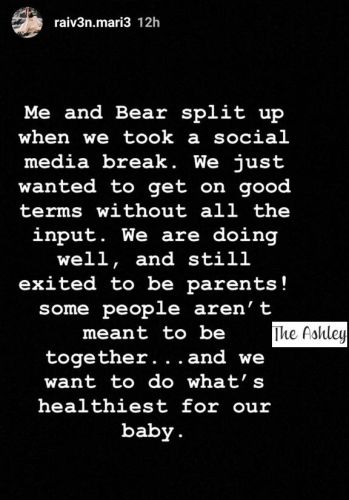 When the couple announced at the end of September that they were trying again in their relationship, Raiven explained to her Instagram followers that they would no longer be taking into consideration what others have to say about them or their relationship. Apparently, though, their efforts were not successful.
"Some people aren't meant to be together…and we want to do what's healthiest for our baby," Raiven wrote on Friday.
In a Q&A session on Instagram Stories, Raiven later revealed that she is due in April, and will be bringing the baby to see Bear, even though she is currently living in Texas and he in Washington.
"I live in Texas but will be traveling frequently for Bear to see the baby," Raiven wrote. "He is welcome [here] any time but it will be easier on him if I bring the baby vs. him coming [to us]."
She explained why it would be easier for her to come to Bear.
"Because Bear isn't the only family member the baby will want to see and for two of us to travel vs. all of Bear's family?" she wrote, later adding that she and Bear will co-parent despite Bear and the Brown Family living in the "Bush."
"Why does everyone act like co-parenting is any different because he lives on the mountain, lol?" Ravien wrote. "Parents live across the world from each other all the time."
Raiven also told her followers that in the past few weeks, she has "really found peace in this situation" and that she is "focusing on the positive."
This is quite a difference from her feelings right after her first breakup with Bear. Although Bear and Raiven made it seem like they ended things on happy terms the first time they split, Ravien's mother, Kassy, revealed in a series of social media posts made days after the baby announcement, that it was not the case at all.
She slammed Bear and his family for not caring about Raiven (among other things), and even revealed that Raiven broke up with Bear because she felt he was too "unstable."
"In my opinion, [Bear] used her for the attention and got irresponsible. Now he's trying to clean up the mess by allowing her to take the fall. That's sad," Kassy wrote in September.
Kassy claimed Raiven got to a point where she felt she needed to leave Bear in order to protect herself and their unborn child.
" … [Raiven] was used and treated like garbage after she decided [Bear] was too unstable to be in a relationship with," Kassy wrote. "I'm not saying that they are bad or that they all deserve to be thrown under the bus but not one person has spoken out against Bear even though they all told Raiven to run."
Bear has yet to acknowledge his and Ravien's most-recent split on social media.
RELATED STORY: Mother of Bear Brown's Ex-Fiancé Raiven Adams Slams Bear & 'Alaskan Bush People' Family Following Raiven's Pregnancy Announcement
(Photos: Instagram)