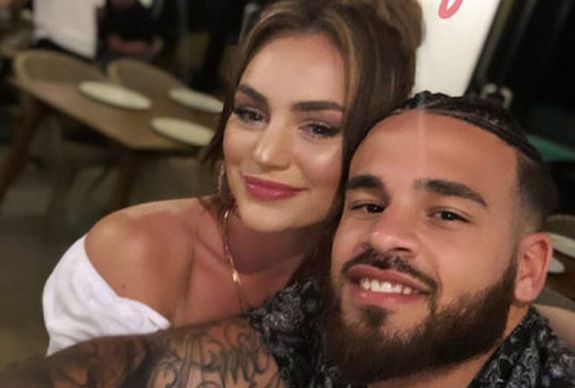 Taylor Selfridge, the girlfriend of Teen Mom OG's Cory Wharton, is opening up about her pregnancy days after revealing she and Cory were originally expecting twins.
The couple, who announced in October that they were expecting their first child together, reportedly lost one of their babies due to vanishing twin syndrome, or disappearing twin syndrome, according to Us Weekly. Last week, Taylor updated her followers on what happened via Instagram.
"I'm doing just fine," she wrote on her Instagram story. "I'm happy, healthy, our baby is healthy. A few days after the announcement, we found out we were supposed to actually have twins, I ended up losing one of them. But on the positive side, my baby is healthy! And I'm 19 weeks now."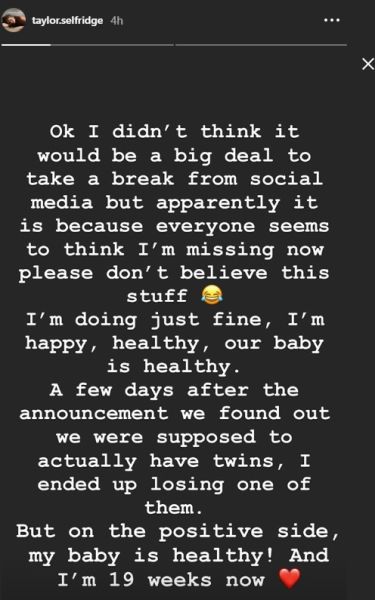 After Taylor made her announcement about the second baby, the clickbait services used by a lot of the 'Teen Mom' girls began to post that Taylor had a "tragic miscarriage," but the Are You the One? alum insists that is not what happened.
"I don't like that people are calling it a miscarriage now," she told Us Weekly. "It's called vanishing twin syndrome or disappearing twin syndrome. We went in for a check-up on our baby and they had found a separate empty sac so we didn't know that we had twins before that."
Taylor went on to admit that she was upset upon hearing the news and even felt some guilt.
"I was so stressed out during the first trimester that I was afraid it was my fault that happened and that's what I struggle with now," she said. "Our baby is very healthy, we have no genetic issues to worry about after testing and we're very happy about that."
SURPRISE! Ryder is going to be a big sister 💝 Congratulations to #TeenMomOG's @CoryWharton + Taylor! https://t.co/MdjrM39P7d pic.twitter.com/7tmNH8641B

— Teen Mom (@TeenMom) October 16, 2019
This will be Taylor's first child and Cory's second — he shares 2-year-old Ryder with ex-girlfriend and 'Teen Mom OG' star Cheyenne Floyd.
RELATED STORY: 'Teen Mom OG' Dad Cory Wharton to Appear on Upcoming 35th Season of 'The Challenge'
(Photos: Instagram, Twitter)