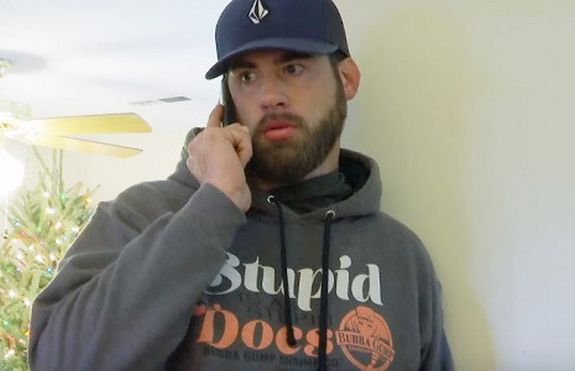 David Eason says The Land has been burgled!
The estranged husband of former Teen Mom 2 star Jenelle Evans reports that his Jenelle's North Carolina home was burglarized and torn apart last month. In a new interview with Champion Daily, David had some "talking words" for the person (or persons) who trashed The Land and, according to him, stole his boat, hunting and fishing gear and the tools he uses to "make a living!"
David claims that the break-in happened while he was in Nashville at the end of November.
He also states that the pesky burglar(s) obviously knew their way around The Land, as they went through the back door. (This is, of course, not to be confused with Farrah Abraham's back door.)
"When I arrived home on November 27th from Nashville Tennessee I immediately knew my house had been broken into," David told Champion Daily. "I changed the locks before I left. So whoever broke in had to break in the back door which apparently they had previous experience with."
As The Ashley previously reported, Jenelle has been living in Nashville since early November, after leaving David on October 31. Their daughter Ensley and Jenelle's son Kaiser are also living in Tennessee at the moment.
David gave the site photos of the wreckage. In the photos, toys, clothes and other items are thrown all over the kids' rooms, bathrooms and closets.
"A lot of stuff was taken, including many of my personal belongings to be missing as well," David said, adding that the tools he used to make the knives he's been hawking online were also stolen.
"It's really low for anyone to steal someone's tools when that's what they use to make a living and that's their livelihood altogether," David said.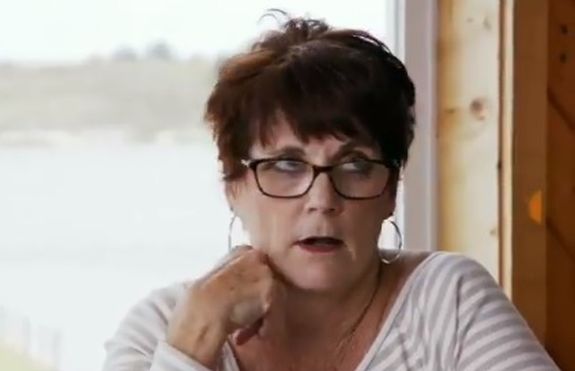 "Not only was the entire house destroyed but the kids rooms look like they were flipped upside down," David said, adding that the house-trashing set him behind on his chores.
"It took several days to clean it all up when I had already been cleaning for a month try to catch up on things that had been ignored for a while," David said, insinuating that Jenelle was a less-than-stellar housekeeper while she was living on The Land. "The house was spotless when I left and came back to this."
David has always been very vocal about the fact that The Land is very well secured. However— wouldn't ya know it?— on the day of the break-in, the burglar had the mindset to mess with the wifi on The Land in order to shut down the security cameras!
"Of course the wifi had been cut off so the security cameras were not even working," he said.
David claims that the break-in has caused him to "live in fear everyday" that the burglar(s) will come back to steal even more of his stuff.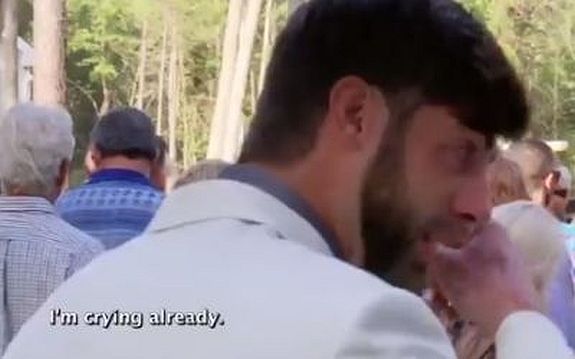 "I hope they enjoy my boat, my tools, my work trailer, my hunting and fishing equipment," David said. "Apparently they needed it more than me."
David has had some really bad luck lately. Last month, he called the police claiming that one of his dogs had been stolen off The Land. It appears that the dog has yet to resurface.
David posted about the break-in to his Instagram (complete with a clickbait link, of course), but he failed to garner much sympathy from his followers.
"Stop playing … That's how your house always looks," one person wrote.
"I know who did it! Her name is KARMA," another person added.
"Christmas is coming, she left him broke, he hasn't worked for years, desperation for cash is setting in!" someone else wrote.
David also posted the link to his Facebook, pleading with his followers to contact him if they had info on who was responsible for the break in. When someone commented that "it was probably Jenelle," David "liked" the comment, obviously indicating that those are his thoughts as well.
The Ashley will update this story if she gets more details about the alleged "break-in". At press time, The Ashley had been unable to locate a police report filed about the break-in, but she will continue to look into it.
UPDATE! In the comment section of his Instagram post, David flat-out accused his ex of doing the robbin' and ransackin'. (David has several exes, but we can assume he's talking about Jenelle here, since she is the only one who lived on The Land with him.)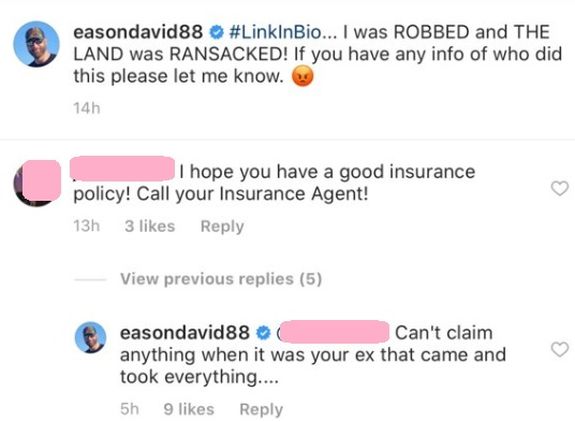 RELATED STORY: David Eason Tells Police Someone Kidnapped His New Dog, Confirms His Daughter Maryssa is Still Home With Him: Listen to the Police Call Audio (EXCLUSIVE!)
(Photos: MTV, Instagram)