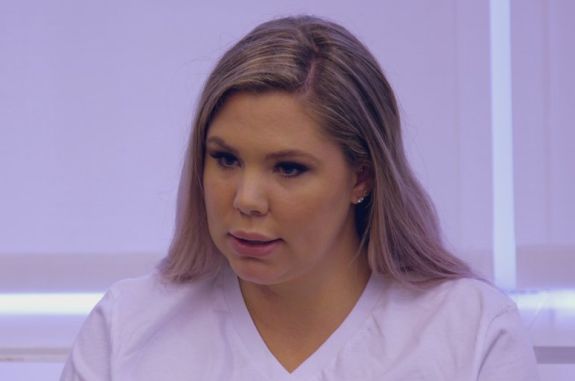 Part three of the Teen Mom 2 Season 9B Reunion was full of scream-at-your-coworker, run-off-stage fun! The episode, which aired on Tuesday night, showed the girls from Teen Mom: Young & Pregnant appear on-stage with 'Teen Mom 2' stars Kail Lowry and Jade Cline. As The Ashley told you back in October when it all went down, 'Y&P' star Ashley Jones got into a screaming match with the other girls while on-stage.
During the fight, Kail is seen encouraging Jade to leave the stage, stating "Walk out, walk out, it's not worth it." She also encouraged Kayla Sessler to change seats with her so that she wasn't sitting next to an angered Ashley. Soon after that, co-host Nessa is heard saying something to Kail (that the viewing audience wasn't able to pick up) that angered Kail so much, she too left the stage, yelling, "WHAT? Ooooh, bye! Bye, NESSA! See ya later!"
So what did Nessa say to Kail to get her so heated?
An audience member who was seated in the first few rows the day of the blowup, tells The Ashley that Nessa was trying to get Kail to stop trying to diffuse the situation.
"Nessa quietly told Kail to back up and sit back," the source said. "It was clear that Kail was interfering with the drama, and it seemed like Nessa wanted to see it play out on-stage. Nessa later explained that she said it because she was concerned for Kail's safety, but that was obviously not true, because they brought Kail out and put her right in the middle. [The producers] and everyone wanted that fight to happen because the audience loves that drama and Kail was ruining that."
"Nessa was almost pissy about it and told Kail, like, 'Come on!' and gave her a dirty look," the audience member added.
(You can see it play out in this Instagram video, around the 1:20 mark).
On Wednesday, Kail took to Instagram Stories to explain her side of the story.
"I just want to address everything that happened on the third part of the Reunion last night," Kail said in a video. "I did not watch it, mainly because I didn't want to relive what happened."
Kail explained that she had attempted multiple times to prevent, and then stop, a fight from happening.
"You know I had my Reunion drama like two seasons ago and I regret how I acted, and I regret so much of that day," Kail said. "I wasn't going to let MTV put Ashley and Jade in a situation where they're pinned against each other…
"I had actually gone up to the producers prior to being on stage with the 'Young & Pregnant' cast and I told them I did not think this was a good idea, and that there was no real reason for me and Jade to be on stage with the other girls," Kail added. "It took me a long time to get to this place, but I just hate seeing that MTV is now kind of specifically pinning girls against each other."
Kail said that those behind the show seem to be encouraging the girls to fight.
"I think MTV really got what they were looking for in the ratings when me and Briana had our drama, so I don't like that they're kind of taking advantage of the younger girls, 'cause they're newer," she said. "And I think some of them feel that they don't have a voice necessarily to speak up against what they do or don't want to film. I really didn't want to film that scene, I didn't want to film that segment but there's this [thought of] do my job or stand up for what's right. At that point, it was like, if they're saying it's fine, I guess I'll just do it, and I went against my better judgement and sat on the stage with them when there was really no need for me to be up there in the first place."
It was never explained by Nessa or Dr. Drew Pinsky why Kail was sitting on-stage for a segment regarding the 'Young & Pregnant' girls. However, Kail gave her thoughts as to why she was "chosen" to be there.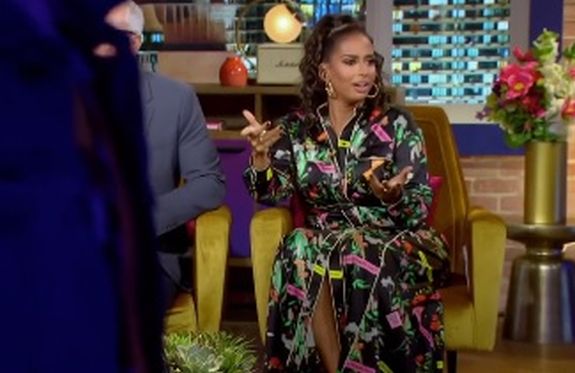 "One of the 'Teen Mom 2′ cast members met me in my room after the fact and literally asked one of the producers why Kail is always picked to do the bulls**t of the show and I, in my heart of hearts, believe that MTV thought I was going to egg on the girls' drama basically, just based on my history," she said. "I feel like I've grown a lot since then and it kind of irritates me that I was picked to be in the middle of all this drama because, yeah, I was friends with Ashley and, yeah, I had introduced Jade to 'Teen Mom 2' through my podcast but I really didn't have anything to do with that [drama."
Kail explained that the 'Young & Pregnant' segment was added so that the 'Y&P' Reunion could air right after the 'Teen Mom 2' one, in hopes that the higher 'Teen Mom 2' ratings would "transfer over" to the 'Young & Pregnant' Reunion.
"But I just really didn't like that I was dragged into something that I was really trying to get away from, as far as like the drama goes," Kail said. "I'm really trying to work on myself, and that whole situation was not in line with what I've been trying to do."
RELATED STORY: Brawl Nearly Breaks Out at 'Teen Mom 2' Reunion Involving Cast of 'Teen Mom: Young & Pregnant' (Exclusive Details!)
(Photos: MTV)