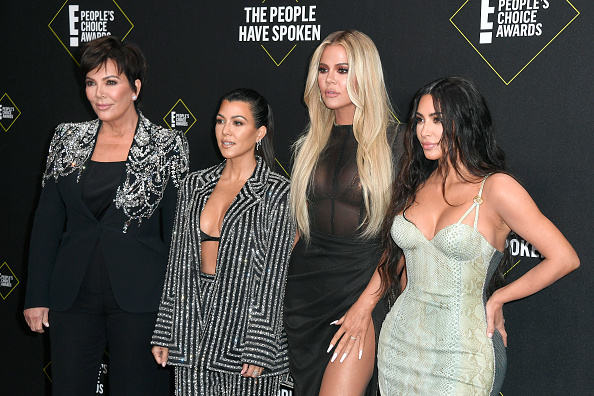 Note from The Ashley: As a rule, The Ashley does not cover the Kardashians. However, she has made an exception here because she really wanted to make fun of this.
Back in 2015, The Ashley treated you to a kollection of treasures (aka used clothes) that the Kardashian family were hawking on eBay and so generously sharing a whopping 10 percent of profits of which to charity.
Five years later, the Kardashian-Jenner family has seemingly surpassed and out-klassed the world of eBay and moved their used clothing business to its very own website, Kardashian Kloset. The site, which launched in October, offers fans the opportunity to buy the genuine used Kardashian clothing, priced from $20 to more than $20,000!
While the family's previous venture into the world of shamelessly selling clothes featured many items that were stained or damaged, it does appear that the standards for items have gone up since 2015. Although, because we can't find anything confirming that the family is donating any of the profits made from their new site to charity, we're going to refrain from giving any kudos.
However, something we are more than happy to give is plenty of snark… so without further ado, here are 10 weird items the Kardashians and Jenners are currently hawking on Kardashian Kloset:
1. Kylie's already broken-in sweatpants
Imagine hunkering down in front of your computer for the next Kylie Cosmetics product launch in Kylie's very own sweatpants! KRAZY, right?! For just $200, you can snag these "very good condition" sweatpants and do just that…
2. Kris's slippers: complete with momager foot sweat
When Kardashian/Jenner matriarch Kris Jenner isn't busy pimping her spawn out, she's a regular mom who likes to kick back and relax in her Pottery Barn slippers! For only $20, these "in excellent condition" terry cloth, size-medium kicks can be yours!
Having a "Blossom" moment? Kylie's got you kovered! Get your mitts on Kylie's denim-esque MIU MIU bucket hat and be the most-stylish granny at the Bingo game! It's no surprise that this $250 hat is listed in "pristine" condition because…well… we all know Kylie isn't plunking this thing on her head!
If you've thought to yourself lately, "I'm just having too good of luck with men, maybe some dysfunction would be fun!" then we've got the bra for you. This $100 used Stella McCartney piece previously owned by Khloé Kardashian is in "very good condition," which is more than we can say for Khloé's love life.
5. Khloé's previously worn thong bodysuits
We're not going to lie, selling used thong bodysuits on the website is just asking for trouble–"very good condition" or not, anything involving the Kardashians and their ASSets is going to bring the creeps out and we don't even want to think about what lies in store for this garment's future.
6. Kris's take on "Ghostbusters, but make it fashion"
Is it a Halloween costume? Is it a safari outfit? It is a beekeeper's suit? Who knows?! For $795, you can dress yourself in this Burberry khaki kontraption that still probably has a few old contracts for weight loss tea stuffed away in one of the two pockets.
7. Kris' "Ebenezer Scrooge" nightshirt thing
Kris channeled her inner 1800s Dickens character while wearing this shirt by Celine. (She even included a photo of herself wearing the frock on her family's show!) This "excellent condition" nightshirt thing will set you back a hefty $500!
8. Kris's broken tote
Just when we think Kris can't stoop any lower, she goes for the gold and asks $2,500 for this Dolce & Gabbana "family" tote that has pieces missing from it. The description on the piece literally reads "very good condition but missing one cameo and one flower on shoe."
Your face may not look like Kylie's, but with the help of these used tennis shoes, your feet can! Kylie is hawking various pairs of her old sneakers, including a pair of worn Chanel tennis shoes (for $450) and chunky Acne Studios sneaks (which are listed in "excellent condition" for $350!
Last but certainly not least on this list (definitely not price-wise) is Kris's $25,000 custom-made lynx fur coat with matching scarf/belt. That's right, guys… for the cost of what some people spend on a vehicle, you can cruise around on your own two legs wearing a genuine fur coat, looking like a genuine stunt-double for Glenn Close in 101 Dalmatians. Better act fast, Kruella… this item is in "excellent condition" and is sure to sell out soon!
RELATED STORY: 5 Weird Things Khloe Kardashian is Selling on eBay Right Now
(Photos: Instagram; Kardashian Kloset)