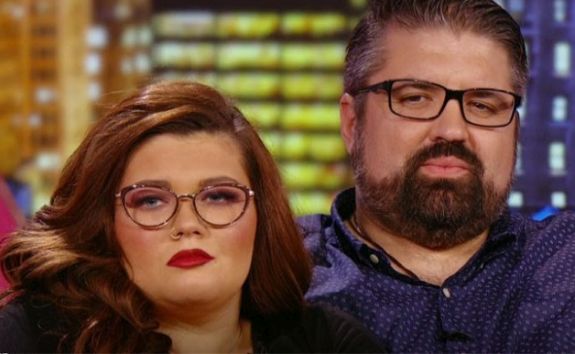 UPDATE! The Ashley has obtained the papers filed by Amber on January 6 and has updated the info below and added more information!
Amber Portwood is demanding her ex Andrew Glennon pay up after she says he violated the custody order they have for their son James by hightailing it out of state for Christmas– with the kid in tow— and then failed to disclose details of a serious dog bite James received on Christmas!
On Tuesday, TMZ stated that the Teen Mom OG star filed documents in court, demanding Andrew be held in contempt for violating their custody order and not allowing her the visitation with James she was due to have over Christmas.
The Ashley can confirm that, on Monday, Amber did, indeed, file an application in court for "Injunction Against Custodial Parent to Prevent Interference with Parenting Time."
In the court paperwork— obtained by The Ashley— Amber claims that Andrew took James out of state over the Christmas holiday "without proper notice, preventing her from getting her holiday visitation." She claims that she followed the agreed-upon protocol of using the parenting app, but Andrew did not respond.
"Mother utilized the calendar section on Our Family Wizard to enter her parenting time for Christmas," the court papers read. "Prior to Christmas, Mother contacted Father on several occasions to confirm her holiday parenting time, to which Father failed to respond. The undersigned counsel contacted Father's counsel regarding holiday parenting time, who advised that Father was leaving the state and would be gone with the child over the Christmas holiday.
"Father removed the child from the state and denied Mother her holiday
parenting time as ordered, and failed to communicate with Mother regarding his
deviation from the court order. Father's interference with Mother's parenting
time is a violation of Paragraph 1(c) of the Mediated Agreement."
(This is the second holiday Amber claims that Andrew robbed her of a holiday visit with James. She also claimed back in November that she was not given the time on Halloween she was due to have with the boy.)
As The Ashley told you back in October, the custody agreement that Amber and Andrew agreed to permits Amber "all scheduled holidays for eight hours, as long as James is returned an hour before his bedtime." (Just to clarify: this means all of the holidays that they've agreed Amber will have, not all holidays in general.)
View this post on Instagram
But that's not all: Amber also claims that Andrew failed to disclose the seriousness of a dog bite he says James received on Christmas by the family dog. (In case you're wondering, according to the court papers, it was Andrew's sister's dog that did the face-biting.)
In the court docs obtained by The Ashley, Amber states that Andrew simply told her that James had been "nipped" by a dog and had to go to the emergency room.
Andrew reportedly told Amber "it was not serious, that he had the minor child checked out at the emergency room, and that a bandage was the only thing necessary."
In the court docs, Amber claimed it took three days for her to get a photo of her son's injuries, and Andrew never shared with her what happened at the ER. (She says she only got the photo after she had her lawyer contact Andrew's lawyer, since she claims Andrew ignored her requests for more info.)
The photo Andrew eventually sent her "showed James had a black eye and a bandaged nose, 'indicating that the injury was more than a 'nip.'"
"Father's failure to provide Mother with information regarding the child's medical care is a
violation of Paragraph 1(b) of the Mediated Agreement," the court docs state.
(Luckily, David Eason wasn't around…or we know what might have happened to that pup…)
Finally, Amber is peeved that Andrew violated their custody agreement one final time, on New Year's Eve when he posted a photo of James to his Instagram account. The Ashley broke the news last year that, as part of their custody agreement, both parents agreed not to share photos of their son on social media.
However, Andrew did, indeed, share a pic of James on Instagram on December 31. He also shared some ramblings on Instagram Stories regarding YouTube, MTV and a person named Gary (whom we can presume is Gary Shirley, Amber's other baby daddy).
"Find us on YouTube, the latter conglomerate couldn't care less about REALITY," Andrew wrote on New Year's Eve. "Gary belongs in bars, right with his ex.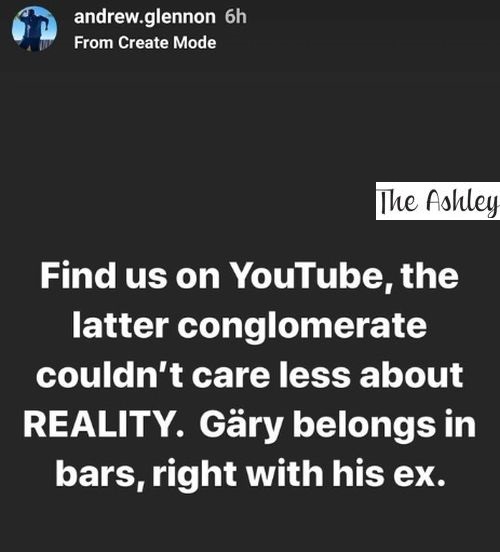 "Youv've [spelled wrong] all the personal info and social security #'s of the top MTV/Viacom heads…leaked b4 I wrote this," he added.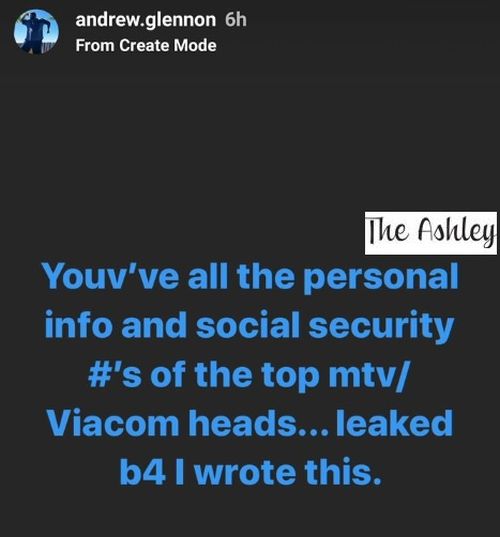 The next morning, Andrew claims that "some people" (possibly Jose Cuervo and Jack Daniels?) "took liberties with my account last night. Pls disregard any previous posts. Happy New Years!"
However, Amber wasn't buying Andrew's claims of being hacked. She wants him punished for violating their agreement by posting the photo of James.
TMZ states that Amber is "demanding more parenting time — to make up for what she lost over Christmas — and wants Andrew to cover all her legal expenses."
Below is part of the affidavit filed by Amber, exclusively obtained by The Ashley.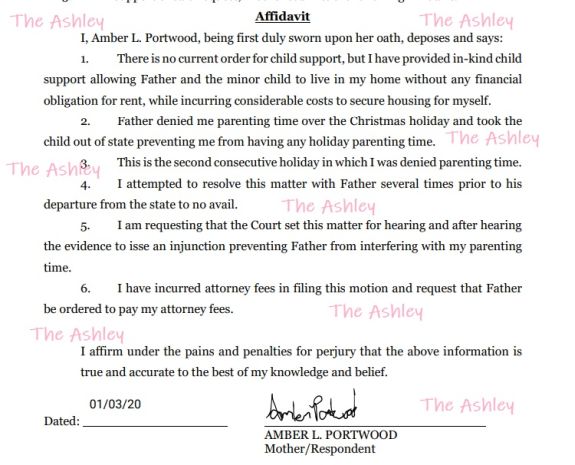 The Ashley has reached out to both sides and will update this when more information is available.
RELATED STORY: Andrew Glennon Says He Was Discouraged from Taking Case Against 'Teen Mom' Amber Portwood to Trial "For the Sheer Fact that I'm a Man"
(Photos: MTV; Instagram)