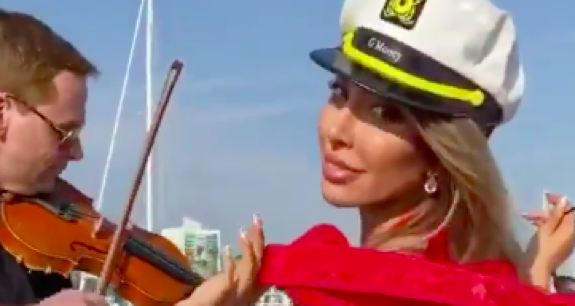 In between defending her daughter's twerking and dissing her former Teen Mom co-stars, Farrah Abraham has found time in her busy schedule to enjoy a wholesome, kid-friendly vacation with her daughter, Sophia.
That is, if your idea of "wholesome" includes Farrah dancing (we think that's what she was doing?) on a yacht with her surgically-enhanced body parts on full display, all while her 10-year-old daughter hangs around nearby.
Of course, Farrah received plenty of backlash for shaking her nearly naked backdoor for the cameras in front of her daughter Sophia. She was ultimately questioned by TMZ on Monday about her decision to film the video in front of Sophia. In true Farrah fashion, though, she defended her actions, complimented herself and gave us too much information.
Oh, and she also managed to call out her pre-teen daughter for being smelly and hairy…as you do.
In case you've somehow avoided Farrah's latest thirst trap, feel free to get yourself up-to-speed by watching the video below, which Farrah shared to her own social media pages over the weekend. Keep in mind, though, that the video may not be a huge hit with HR, so proceed with caution if you're viewing this at work. (Honestly, this is just a good rule to follow for anything involving Farrah….ever.)
🛥 🎻 👩‍✈️ ⚓️ @iamthmpsn
.
.#franksinatra #classicalmusic #grammys #farrahabraham #2020 #sag pic.twitter.com/7126WuHiND

— FARRAH ABRAHAM (@F1abraham) January 20, 2020
Naturally (unlike Farrah herself), Farrah's video caused some waves as it was revealed that Sophia was also on-board during the performance (?), as seen by the TikTok videos the 10-year-old posted.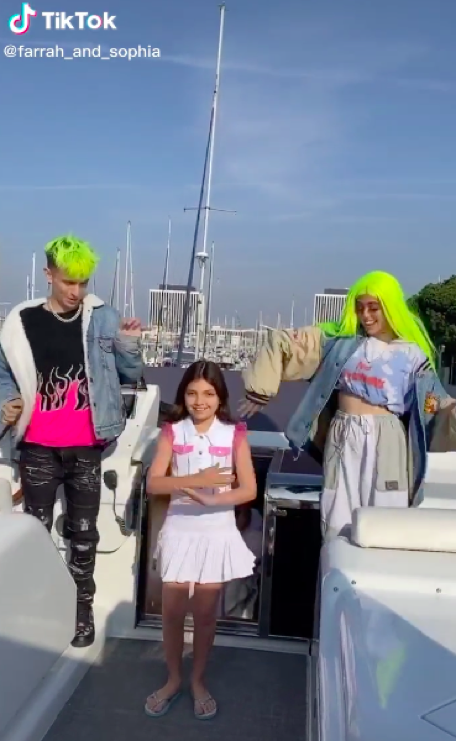 Farrah-haters came out in swarms on social media, with Farrah's video receiving comments questioning her parenting and even accusing her of making Sophia film the video (as Farrah has done in the past).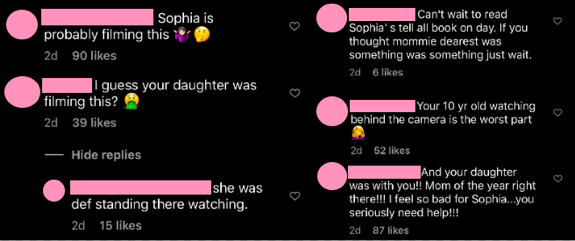 Here, we've compiled the Top 5 Most-Ridiculous Quotes from Farrah's TMZ interview, all of which are A+ quality "Farrah Speak" examples! (All quotes have been left in all of their run-on sentence glory!)
1. On never wanting to have to regret not shaking her booty on a yacht while wearing a captain's hat:
"I feel like a lot of moms are sex-shamed, which I definitely have been in my life and I think when I am sexy, gorgeous, young and beautiful, I would almost regret not looking back on my life and not living a happy outgoing life and I would definitely hope my daughter's never shamed to cover up herself and not be her happiest … "
2. On whether Sophia is growing up too fast:
"No, ya know … she just recently lost her last tooth and she's like, 'I'm not gonna actually write the Tooth Fairy a letter this time.' And also for Christmas, she still kind of believes in the Santa stuff. Other kids stopped doing that like, years ago. So my daughter, she's pretty much her kid self."
3. On Sophia's newest puberty signs:
"Well, I mean she started having B.O. [body odor], ya know, she started having armpit hair. Like, our kids are going through puberty and luckily my daughter is more well-behaved than I see of her other kids and her other peers and I'm very blessed."
4. On her decision to film her lingerie/violin video on the yacht video while Sophia was on-board:
Farrah stated that, at one time or another, we've all danced in lingerie on a boat while someone played the violin…right?
" … Ya know, the yacht's kind of big so if some of us are in the front and we're just dancing and having fun. Like, my friend's playing a violin and his girlfriend is there, ya know? Like, I don't do anything that nobody else is doing. I actually think I live my life a little bit more conservatively than most other people do."
5. On how she's handling the backlash:
"I'm staying positive. No one is ruining my creativity. Or my Instagram happy page."
RELATED STORY: 'Teen Mom' News Pile: Farrah Abraham Defends Underage Twerking, Says Amber Portwood is "Dating Wrong" & More
(Photos: Twitter; TikTok; Instagram)