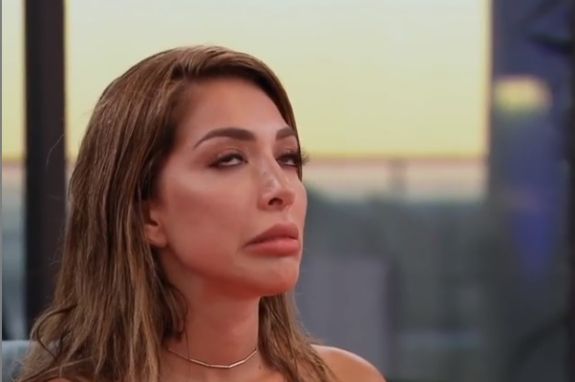 From trying to defend your 10-year-old's twerking on TikTok to blaming your frequent visits from CPS on MTV, the stars (past and present) of the Teen Mom franchise have had quite the busy week.
In an effort to get you up-to-date on the latest Teen Mom OG and Teen Mom 2 news, The Ashley brings you the Teen Mom News Pile. Here are some of the major (and minor but interesting) 'Teen Mom'-related things that have happened over the last few days…
Farrah continues to defend her questionable parenting.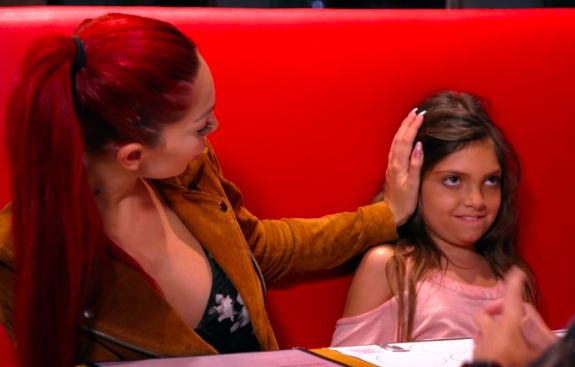 Well, less than two weeks into 2020 and former 'Teen Mom OG' star Farrah Abraham has already given us a solid example of her stellar parenting.
After a TikTok video of Farrah's 10-year-old daughter Sophia twerking was posted to Farrah's own account earlier this month and met with criticism, Farrah attempted to defend the incident… we think?
Farrah told The Sun at ThinkBIG 2020 Conference that when she told Sophia she didn't think the content of the video was age appropriate due to Sophia "twerking [her] booty," Sophia informed her mom that "all the kids are doing it."
"I'm like, 'Okay I'll try this for you, but I'm really not about it,'" Farrah said.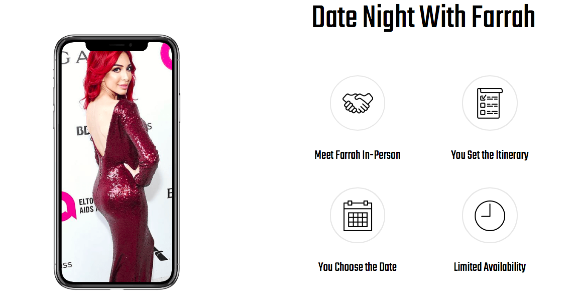 Farrah went on to say that she finds it sad that "thousands and millions of other kids can act like kids and Sophia doesn't get that attribute of acting like a child."
"I feel like I'm allowing my kid to be a child and that's the first and foremost no. 1," she continued.
Farrah's mom Debra "Debz OG" Danielsen is backing her daughter's questionable parenting choices as well, noting that "they're just having fun."
"I don't think it's scandalous at all," she said. "We've always done funny little things like that around the house."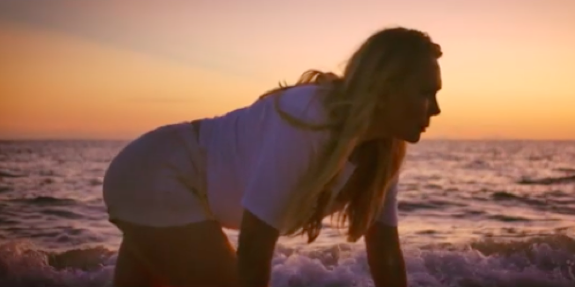 Whatever you say, Debz!
Farrah slams Amber Portwood's new relationship.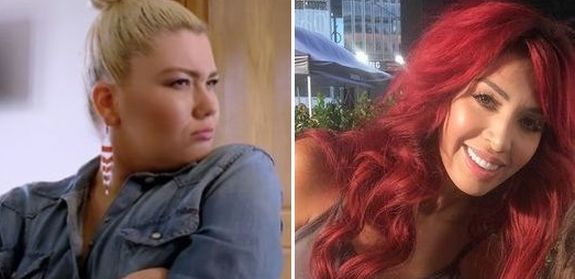 While Farrah is perfectly fine with people (including her own child) twerking online for millions to see, she's very much against pursuing a relationship with someone who doesn't have a green card…apparently.
According to The Sun, Farrah doesn't speak to her former co-star Amber Portwood, but she's still gotten word that Amber is "dating wrong" — referring to Amber's new relationship with Dimitri Garcia of Belgium.
"People are not making wise choices and that's kind of scary for them," she said. "I do date out of the country, I do these amazing things but I'm not having someone come from another country with no green card living with me, there's a scary element to that."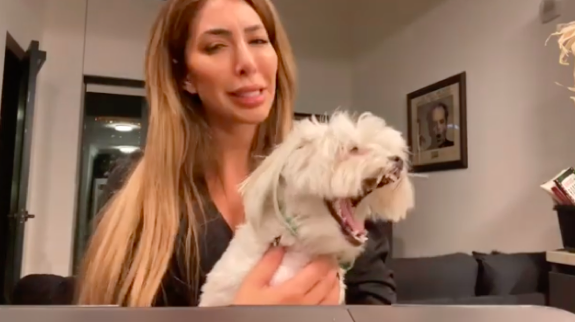 A source close to Amber told the site that she and Dimitri do not live together, despite Farrah's concerns via Farrah Speak.
Rachel Beaver says CPS frequents her home because she's on reality TV.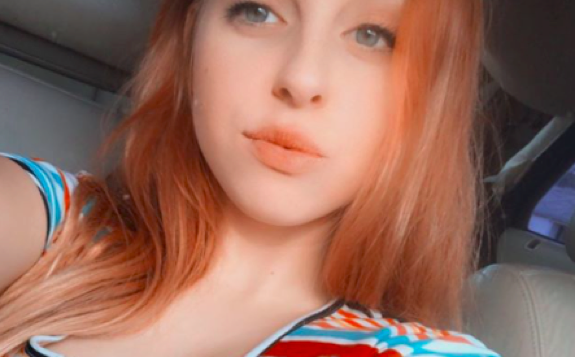 After her car was allegedly stolen, Teen Mom: Young and Pregnant star Rachel Beaver was accused online of associating with the wrong crowd and of needing to "get sober." Rachel defended the company she keeps and also challenged the individual to "come prove I'm on drugs, I bet ya can't." She then revealed that Child Protective Services makes visits to her house often due to her being on the MTV show.
" … I literally have cps in my life because of dumb***es like you & guess what?! Guess who has their kids still?! ME bc I'm not on gd drugs," she wrote on Facebook in a now deleted comment. "You know know many calls to cps I get a day over the show? You know how many calls to cps I get a day over the show? You know who's done s**t? No one. Bc I'm stable as f**k & no one can prove me unstable."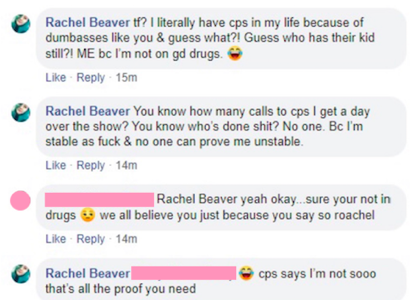 When the commenter went on to doubt Rachel's sobriety, Rachel defended herself, saying "cps says I'm not [on drugs] sooo that's all the proof you need."
Angie Douthit's friends, family and followers raise enough money to pay off her house.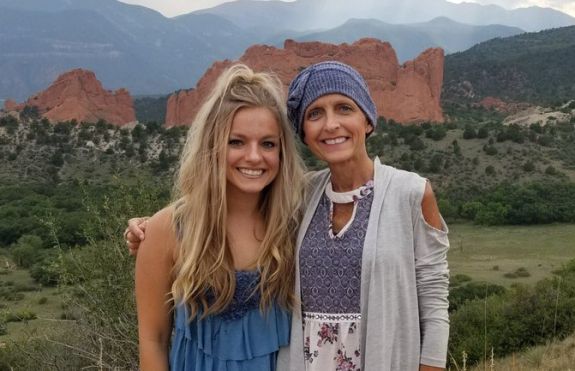 Teen Mom OG star Mackenzie McKee has revealed that the PayPal fundraiser she created to raise funds to benefit her parents Brad and Angie Douthit as her mother battled cancer met and ultimately exceeded its goal to pay off the couple's home.
On Monday, Mackenzie posted a video filmed shortly before her mother's death in which they shared with Angie the news that enough money had been donated by friends, family and followers to pay off she and Brad's home.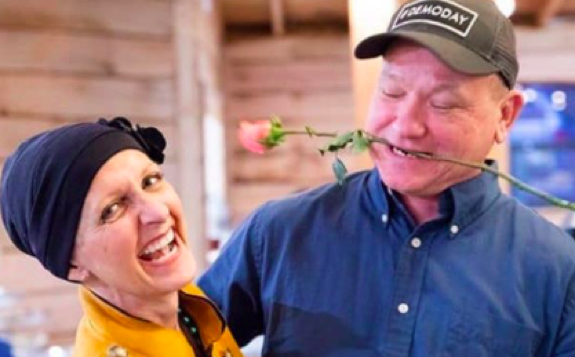 The video was shared to Angie's Instagram page, which has been regularly updated by Angie's friends and family since her passing. Along with the touching video, Mackenzie included a Bible verse to Angie's followers and a message sharing with them the good news.
" … I am sharing a video of the last days of her life where God blesses her abundantly just like he promises he would," Mackenzie wrote. "Her house has hosted more church gatherings than I can count. It was the house where you didn't knock, you walked in and her shoulder was there to cry on. No matter who you were, you were welcomed in her home. Her and my dad grew a family and made millions of special memories in that house.
"All she was worried about when getting sick was leaving my dad with a house payment," she continued. "Other than her medical bills, that was their only debt."
Mackenzie went on to say that everyone coming together has not only helped the Douthits pay their house off, but also take care of some of the medical bills.
"Thank you everyone who chose to be a cheerful giver," she added. "She left earth with those giving back and her reward was good."
To catch up on the latest 'Teen Mom' news, click here!
RELATED STORY: Chris Lopez's Aunt Claims 'Teen Mom 2' Star Kail Lowry is Pregnant with His Baby; Inside Their Crazy Last Few Months of Violence & Arrests (Exclusive)
(Photos: MTV; Instagram; YouTube; Facebook)